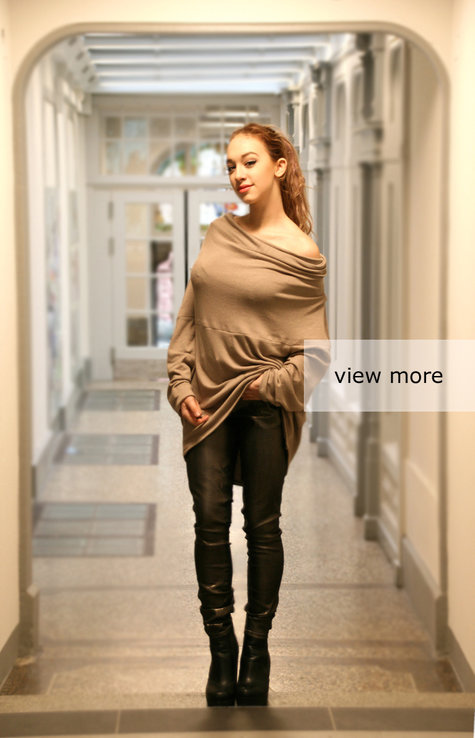 What a fantastic jeans fabric! I love these 5-pocket-jeans and the cozy jumper so much…
Hello and welcome to my new Post! Today I'm gonna show you two of my creations in one post. That's a premiere for me :-) Let's start with the Jeans. Yes it's really a Jeans fabric although it might look like a fake leather or some other shiny fabric. From the inside you'd see that we are talking about a Jeans here. Just fantastic! I have found this fabric in a seamstress couture atelier in my town. The woman Elena Ulrich, the label est:ed. She ownes a great atelier. You can reach the flat with one of these very old elevators and the place is really great, big and inspiring. est:ed is the couture place in town, which exists already since 20 years and meanwhile is well known in the area. it's located on top of an old cinema. Elena Ulrich has a selected designer fabric disposal and that's where I found this fantastic fabric for my 5-pocket jeans. When I first heard about the project in school I was pretty intimidated by the thought of so many little pieces, the topstiching of the pockets, the zipfly… But my sewing teacher encouraged me in a good way and so I started. The problem turned out to be a totally different one: my sewing machine. She hardly couldn't handle the thickness of the fabric, the jeans treat, the surface of the fabric… it was a real battle and we both really fought it hard! There were several moments where I was soooo close to give it up, but at the end we both (my machine and I) came out of it stronger, prouder and resistent against whatever crosses our way in future! I have learned so much in this project and my machine survived it!! We grew stronger as a team, we both, my machine and I :-) :-) :-)
Now it might sound odd to you when the next sentence is: Yeyy, I bought a new machine! Fact is, that I really did, but I am talking about a Coverstitch machine. So we are talking about an extension in my atelier. I know that you can sew jersey with a normal sewing machine, but if you have sewed once with a cover, you don't wanna ever go back from there I promise! So I came home with this new Janome Cover Pro 2000CPX and my first project was an oversized pullover from burdastyle Oct. 2015. In the magazine the pullover is made with a thick fabric. I chose a thinner but quite havy material so that it almost looks like a huge scarf. Naomi, my model, took the collar and pulled it over her shoulders which I really liked. You can really play with it. There are so many possibilities to wear that piece. Naomi chose to wear high ankle boots. It was so much fun to work with her and I wanna thank her at this point for being my model. The young and fresh look suited this style in an amazing way :-) :-) :-)!!!
The Shooting took place in a wonderful passage in the middle of my hometown. Saturday morning, icy cold, snow-rain (didn't bother us, cause we stood in shelter) and a fantastic good mood! Naomi and my daughter (photographer :-)) just took over and did a hell of a good, professional job! I was "only" the assistant and I let it flow. And that's the result, when you just let young people do their thing. I hope you like the photoshoot and my new two creations. Stay sew-focused and have fun with what you do. Big hugs from my sewing atelier to yours. See you in my next post. Bye!!