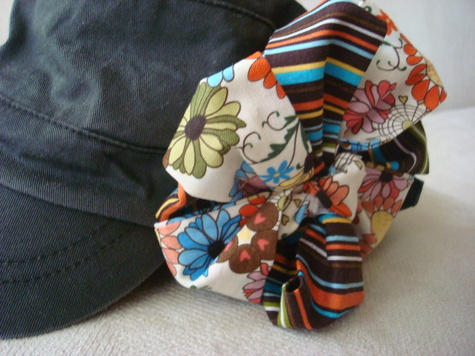 Dress up your handmade lovely pieces or customize store bought items by using just scraps of fabric! Or consider using these to dress up your gift-giving. Anything is possible with this scrap-happy creations!
Crazy easy! 30-minute project! Great to do with kids!
The Crazy Eights Puff Flower creates an eight-petaled flower in the easiest way possible! Great addition to the shoulder of a holiday dress, the strap of a great fabric handbag or diaper tote, a spring jacket, a lunch box, a headband, a gift… endless uses! Pattern can be made with contrasting fabrics or a single fabric selection.
You can size the pattern to your heart's delight for larger or smaller renditions. You'll need about 6" of scrap elastic plus about 6" by 24" of fabric (total, for the smaller size).
As with all my patterns, this pattern will guide you through the process of making this fabulous little creation with step-by-step full color photography. You're guided through at every turn with fun, witty, and clever dialogue.
Join in on the fun (and get deals) at:
http://www.facebook.com/EmilieRebekahDesigns
Blogging on the crafty life, and all things modern stitchery:
http://online-sewing-patterns.com