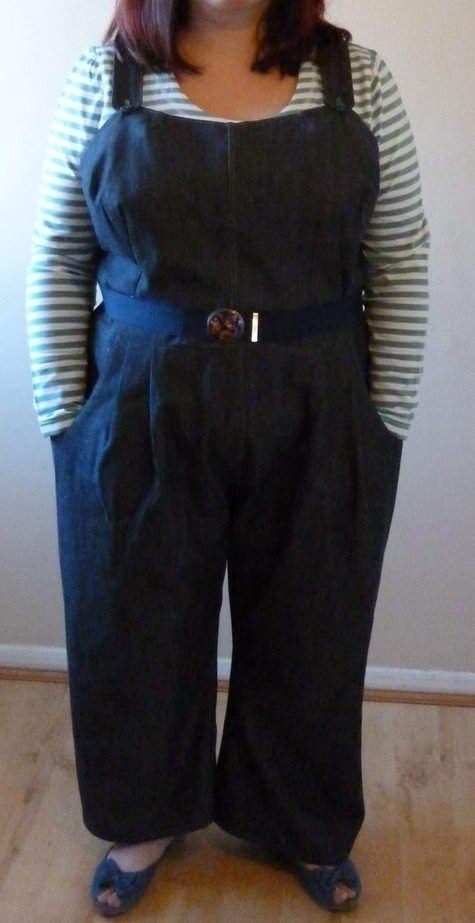 From Folkwear's Rosie The Riveter pattern
Now, let's face it, I'm not thin. But luckily, I am an hourglass, so this pattern is quite good for me, since it has a defined waist (which inexplicably didn't fit when we were taking photos earlier. I am hoping I've lost weight, rather than done bad sewing!).
This did take a fair amount of adjustment to get right, since my body is quite an extreme hourglass, so the pattern needed some peculiar tweaking, not least all the darts in the bodice. The original pattern has 2. My version had to have 6. And even though I've taken 4" off the width of each culotte, I guarentee I could take at least 2" more! :) I also added to the waistband because of my tum, but strangely, that didn't affect the pleats at the front of the trousers. I am confused.
Having said all that, I love these and they could easily become my favourite bit of workwear. They're extremely comfortable, practical and far more flattering than other work overalls! The pockets are deep and nicely set into the side, and the pleating allows for a really flattering shape. All in all, I love this pattern and the next thing I'm making is a pinstripe version for work :). Hopefully, it'll hang better than the denim ;). I also fancy a chiffon version, but I haven't found a cloth I like yet…
However, a word to the wise – when bending down to saw some wood in brand new overalls, don't use the green thread in the back of the thread drawer just because it was a pretty colour. Use good quality thread which you know the age of, or the last picture will happen and you'll be embarrassed :D.