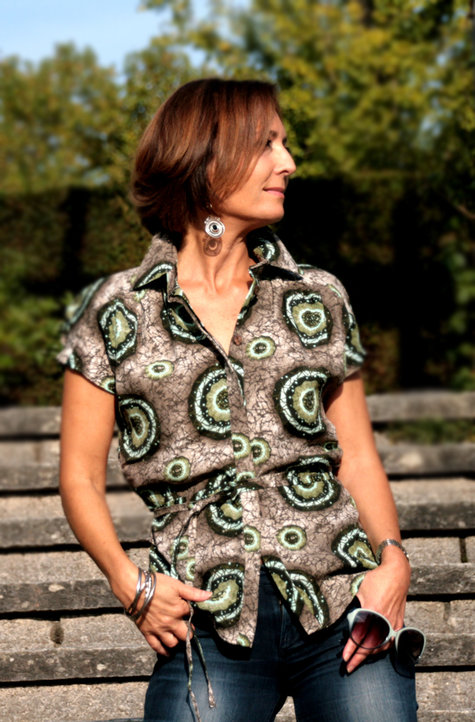 Hello and welcome back to my new post! I can already start with good news: I have passed my intermediate exam with a grade of 5.5! (best grade in Switzerland is a 6) I am soooo beyond happy and so satisfied with my achievement. Still can't believe it!
Maybe I will do a post about the sewed skirt but I am not sure yet since I have already posted some pictures and wrote about it in a previous post. There is so much going on at the moment. So many new things. The overall for my nephew is in the making and soon finished (stay tuned for THAT!) and there are two blouses waiting to be done in the next days. School is speeding up. It's time to look ahead.
Do you also have some struggle when it comes to choosing the right fabric for a project? I acutally love the first phase of a project when the ideas start tuning in and creativity goes wild, but when it comes to decide upon the fabric it often takes me the longest. There's a beautiful print but the material is not the right one…here it should have been more stretchy… there the pattern is too large or to small…or here, the perfect fabric but slightly in another colour…whow! I often wish to have an own fabric factory :-) The thing that I have actually tried once is www.stoffn.de there you can upload a print and choose from the fabric you want to have. It worked quite good but they have up to 4 weeks (!) delivery time.
To choose the right fabric is a huge topic in the world of sewing. What are the criterias? For me the most important are:
does it match to my pattern? does it match to the theme of my project? does it match the person who will be wearing it? does it fit in my wardrobe, can I combine it easily? but then also: how is it managable? is the fit going to be smaller or larger because of the consistency of the fabric? is it warm enough? is it cool enough in the summer and breathable? if I have to layer, is it going to get too thick to sew? is pattern and cutting line combinable? etc. etc… I could go on with the list and one should consider all this when standing in a fabric store surrounded by beautiful, stunning fabric? Well, that's a difficult thing to do! So I often even end up buying a few more and "this one as well, don't know what I am going to sew with this but it's soooo adorable…." I am sure some of you can feel me :-) :-) :-)
About the blouse: The fabric from this blouse was a pick of my pro mami. She is a professional sewer, lifelong experienced and has a sharp eye for the match of everything. We entered the fabric store in Weisslingen which unfortunately will be closing down in June and once more I was overwhelmed by the huge choice. Not so my mum. She scanned the place with a coolness I am still far away from when it comes to buying fabric and grabbed this green-brown bale… my first reaction: inclined head to the side accompanied by a "hmm". But mama insisted with that "trust-me" glimpse and before I could react the scissors were running through the width of the fabric. But the Slogan "Mama knows best" confirmed itself once more! Every time I wear that blouse I get so many positive reactions about the speciality of the fabric and so many compliments like almost no other piece I sewed so far. And the colours make the skin shine in an warm olive toned shade, that's an extra bonus. It's bohemian, afro and safari all in one. I love it!!!
But who ist that bella donna wearing my blouse on this shoot? My lovely sister!! She was so kind and accepted to be the model for this and for one more shoot on which I will do a post soon, so make sure you don't miss it, because she looks stunning there as well. As location this time we choosed the surroundings of the Munot in Schaffhausen and we were blessed with a wonderful sunny day and a beautiful evening light. Behind the camera for once not my daughter but myself… just to stay exercised and don't loose the skill ;-)
I'm so eager to read your comments! Let me know how you like my blouse, my post and my model ;-) and tell me about your experience of buying the right fabrics and what your criterias are for making the right pick. Big hugs from my sewing atelier to yours. Stay sew-focused as always, have a fantastic week and I hope to see you in my next post. Bye!!