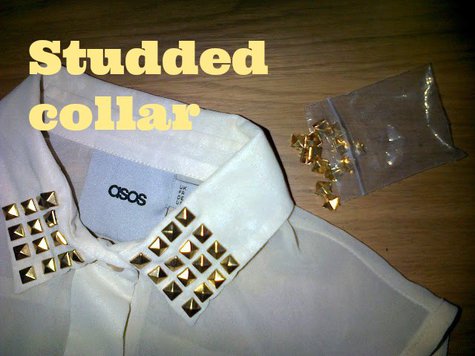 Since studs have been on trend for the past two years now, I decided to finally try to put some on one of my shirts. I knew it was easy but never thought it will take me less than 10 minutes. Why to pay more for a studded shirt, when you can make one at home? It is up to you what the studs will look like. There is a variety of shapes and colours on the market. You can dress the shirt up or down depending on the occasion. Tuck it in high-wasted jeans for a casual look or in a pencil skirt for a glam rocker chick outfit!
What You Will Need
A shirt (every other piece of clothing will work)
Studs (you can get a pack of a hundred for less than £2 online)
Pair of small pliers(or something hard, preferably made of metal)
A tip: Save money by taking the studs from an old belt, instead of buying them from the craft store.
How To Do It
1.Take the stud and push it firmly on the fabric
2.Use your fingers to secure the stud on place by folding down the two prongs
3.Now gently press the back of the stud with the pliers in order to prevent any prongs with sharp ends sticking out
4.Enjoy your piece of work!