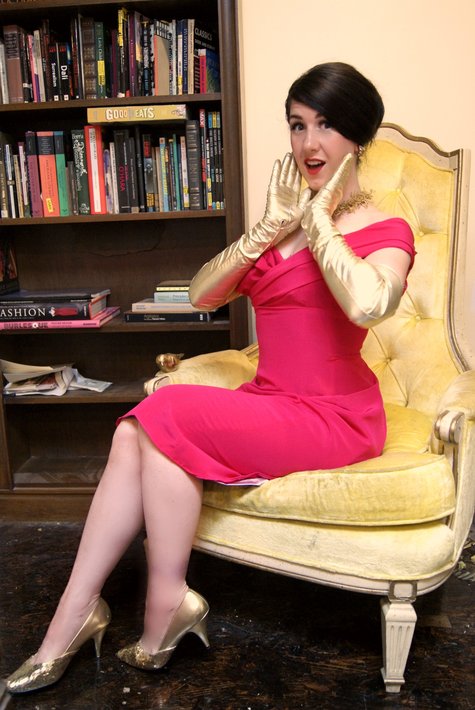 Tinybow's creations are pin-up girly fun and vintage inspired. This look reminds us of a Hitchcock film— there's a bit of vamp, a bit of camp, and a ton of style. Her creation of this off-the-shoulder dress is amazing, not to mention the photos (modeled by her friend, a burlesque performer)! Made from fuchsia poly-satin (for stretch) this dress screams film siren.

Tinybows Says: "As soon as I saw the pattern for this dress I fell in love and knew I had to make it! This project was definitely a learning experience for me, but I challenged myself to make something out of my comfort zone and I was pleasantly surprised with the outcome. This is the perfect pin up girl dress! I was lucky enough to collaborate with the lovely lady of burlesque, Miss Rose, who was kind enough to help style and be the model for the shoot. If you want to capture some of that old Hollywood glamour, then I highly recommend you try this pattern out yourself!"

Note: This pattern calls for a one-way stretch fabric and is available in sizes 44, 46, 48, 50, 52. We have another off-the-shoulder dress pattern, though not exactly the same as this one, it's available in sizes 36, 38, 40, 42, 44.