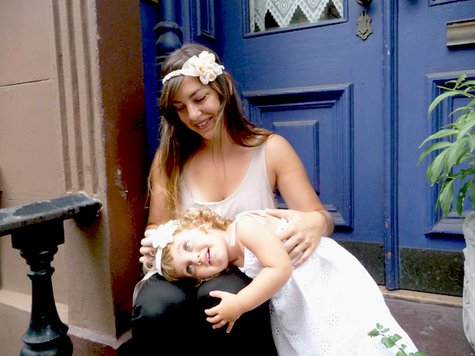 Kanzashi is a traditional Japanese art form of folding and stitching fabric petals for use in beautiful adornments— especially for hair. This somewhat time consuming process has recently been innovated by Clover with the Kanzashi Flower Maker: You simply set a small square of fabric in a flexible plastic plate, cut + sew— and voil, you've got silk petals!

This project was so simple that children and adults alike could complete the process. Add a braided silk band and some scraps of organza and these headbands are pretty enough to wear in a wedding (think bridesmaids + flower girls), to a dance, or a Sunday stroll.
Please Note: Some of you have reported that you are unable to download the .pdf instructions associated with this project. We have reported this issue to our Technical Support team, and they are working on remedying this issue as soon as possible. In the meantime, you can view each instruction step online by clicking the "Instructions" tab above. We sincerely apologize for this temporary inconvenience.