Yohji, Spuntino and Cabaret
Added May 20, 2011
by candyjoyce
Southampton, Uni...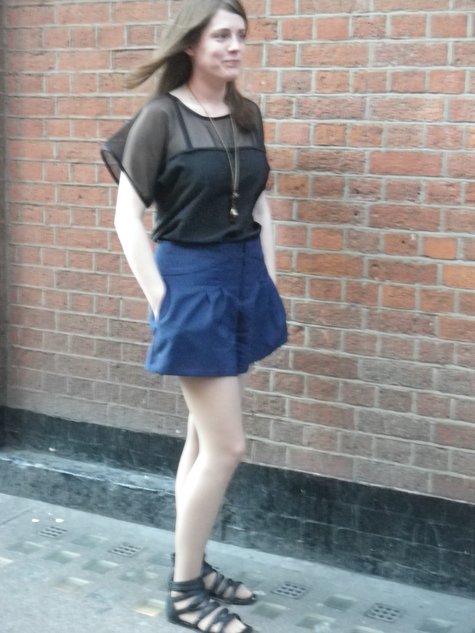 ShareThis
Description
Day out with AJ in London to visit the Yohji exhibition at the V&A, enjoy some food at Spuntino and then cocktails at Proud Cabaret.
Requirements: Style, Sass and Space.
Train Bag
I need a bag in which I can carry: iPod, wallet, Book, Knitting, Sketchpad, Nintendo DS, water bottle, phone, camera. (plus fabric given to me by AJ, thanks AJ)
Found this black felty wool in my stash which doesn't need any hemming or finishing and also has these two cute little golden sheep printed in the selvage.
Just used the Charlie bag and added an extra pouch on the front.
WWW.shorts
I decided that the www (wide,wide,wide) trouser pattern would also make some cool shorts. I had trouble deciding whether to do a turn up or plain hem. I'm happy with how they turned out although I could have used a slinkier lining.
Material: Polyester Crepe
Pattern: Vogue 1186
Kimono T
I spotted the pattern for this T and immediately wanted a dressed up version.
I wanted to use crepe for the main body of the T and chiffon for the shoulder section. I made a jersey version first with some purpley jersey in my stash so that I could assess the fit and length and pinpoint where I wanted the crepe and chiffon to join.
This was my first time working with chiffon. I joined the crepe to the chiffon with French seams and then cut the pattern out of the already joined fabric. The sleeve hems and neck is bound with satin bias binding. I decided to put the French seams on the outside to add a bit of interest. I went for the Largest size to accommodate the fact that I wasn't using stretchy fabric.
This is so quick and easy to make, I want more jersey versions and maybe another dual fabric version as a dress with a wider boatneck.
Material Notes
Bag: Thick Felty Wool
Top: Chiffon and Crepe
Shorts: Crepe
Difficulty
Advanced
Categories
This project is based on
Make it