Yogurt time wrap
Added Apr 11, 2011
by littlewren
Rutledge, Pennsy...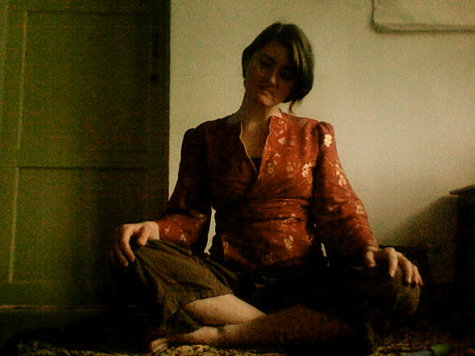 ShareThis
Description
I have, for the past few years been enchanted by the restful, contemplative nature of Yoga. I don't subscribe to the chanting of mantras but I do love the quiet prayerful time it gives me in my day, away from the hubub of daily life. I am by no means a yogi and therefore would understand if someone looked at this item of clothing and thought, "you could never wear that while doing yoga… totally impractical." Yeah, I agree, but after the workout portion and when you go into the quiet prayer time, this is a perfect in between. Plus the sleeves are perfect for any kind of meditative mindset.
the reason this is called yogurt time… is because that is what my husband calls it… Yogurt, not yoga! :)
I made the pattern myself. I drafted the sleeves so they would have a puffiness before the wide wide arm holes. I love the idea of a wrap… so versatile… it can go over anything… an evening out dress or my morning yoga duds. I made the strap around the middle WIDE and LONG… long enough that it can wrap around you twice! I intended a sort of obi belt look… not sure if I succeeded. The back has box pleats giving it the billowy shape I wanted. I also faced the front of the wrap with organic cotton.
I am pleased with the way it turned out… I feel like most of the things I draft myself always have a mystery to them that alludes me… This is the same. It did however pass the student test. Last night my students came over for "Mexican food"… and I showed them some of the things I'd been working on… they were really excited about this and asked to try it on. Our living room became a showroom… photos being snapped, QQ (- the facebook equivalent in facebookless China) pages were being updated! ha!
Material Notes
This fabric was a gift from one of my favorite people in China… although now she is living in America again. Upon her departure she gave me this fabric as a gift… as inspiration, as something to make something out of. My husband and I said goodbye to them, then flew out to Cambodia… This fabric came with us. The whole trip, I kept coming across it in my little book bag… I'd stare at it and wonder what it was going to be. When we got to the beach in Cambodia we realized exactly what it needed to be! It needed to be our beach blanket! We laid on it and read, sunglassed and sunscreened… Upon our return home it started to speak to me, the way fabric speaks to someone… and also through it's amazing smell of fresh, unapologetic SUNSHINE! (we've had 15 days of straight clouds… 15 DAYS!) Every time I wrap this around me, I am wrapping myself in sunshine and the joy and beauty that Cambodia was to us.
also… not really sure if this is silk… it looks like it… but I've been treating it like a beach blanket… so who knows what it really is! :)
I'll put on a picture of this fabric serving it's time as a beach blanket! :)
Difficulty
Intermediate
Categories
Apr 11, 2011, 11.53 AMby dottty