Yellow moth outfit
Added Sep 2, 2013
by olystyrene
Sydney, Australia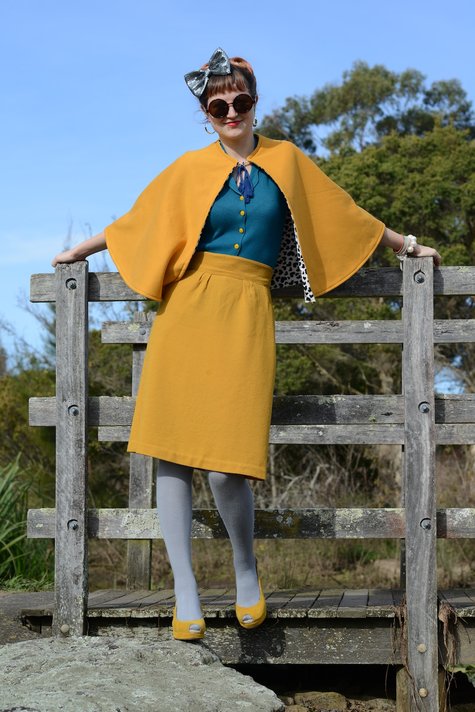 ShareThis
Description
This project consists of 4 separate garments – I made the skirt and cape from scratch and refashioned the blouse and stockings from existing garments. Now, where to begin..?
The skirt was the first piece I made. I had a lovely mid 1950's pattern in my stash with lovely scalloped pockets that I'd been waiting to make for a while. I find myself always going for darker colours and prints when it comes to skirts so decided to try something new with this one and used a nice mustardy yellow crepe-like fabric that I found in an op shop. I love the texture of this fabric but it was a bit of a pain to work with. Never mind, all is forgiven now. I found the trickiest part was the waistband. It's a shaped waistband that gaped at the top when I initially attached it so I had to unpick the whole thing and reshape it before sewing back on. A lot of cursing was involved because this was the very last thing I had to finish before the skirt was complete. After a few deep breaths and a little bit of patience, I finished it off and was quite pleased with the result. The shape is a little more A-liney than I usually wear and the length is considerably shorter than the pattern called for but I'm pleased with the result.
Next came the blouse. Another nice op shop find. The bright turquoise colour caught my eye immediately and I really liked the the lovely scalloped collar. It's a woven cotton piece that can be dressed up or down but was a little too big that I figured could do with some reshaping (I shall post a how-to!). Anyway, I removed the sleeves and then took it in at the side seams. I then reshaped the armholes and sewed the sleeves back on. They're ever so slightly gathered at the shoulders. Lovely and feminine. The final touch was removing the buttons and resewing some mustardy yellow ones for some 'pop'.
The cape I made out of a very small piece of mustardy-orangey hoodie material, also found at the op shop. Initially I wanted to make a little coat jacket but there really wasn't enough fabric so the cape was the next option. I didn't use a pattern for this, just a bit of careful cutting. Unfortunately, because the piece was so small, there wasn't sufficient fabric to make a perfect half circle cape so it didn't sit as neatly around the neck and shoulders as it was supposed to. I ended up adding some darts for the shoulder section and that solved the problem. I attached a flannel lining (I think I've had the flannel fabric in my stash for about 15 years!) and finished with a nice navy decorative fringed tie. Done aaand done!
Finally, the stockings. I will post a separate project for this later but suffice it to say that this project was born out of sheer necessity… I came across some grey cotton stockings at the op shop and thought "score! Winter will never win!". Alas, when I got home and tried these on, they were waaaay too short in the legs. However, I defeated my mortal enemy – Mr. Low-crotch – by refashioning these into suspender stockings instead. Now they are awesome and comfortable and secretly sexy AND they keep my leggsies warm in the cold weather.
Hope you enjoyed the story, kiddies :)
Material Notes
synthetic crepe, hoodie fleece, flannel, old clothing, buttons
Difficulty
Advanced
Categories
Sep 15, 2013, 11.35 AMby alekat

1 Reply

1 Reply

1 Reply

1 Reply