Wristwarmers
Added Nov 1, 2008
by sewella
South Of Eden, M...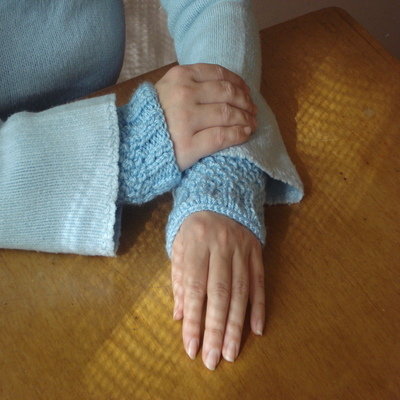 ShareThis
Description
Lovely wristwarmers! The pattern is the double moss stitch. It goes like this:
Cast on 38 stitches
Ribbing = 8 rows: K2P2 right side / P2K2 the opposite)
Row 9 starts the double moss stitch:
K2,then P1,K1
P1, K1, (repeat this to the last 2 sts) then P2
K1, P1 (repeat this to the last 2 sts.) then K2
P2,then K1,P1 to the end.
Repeat these 4 rows until the desired length is achieved (I repeated these 4 rows for 8 times which totals 32 rows of double moss stitch without the ribbing!)
Next start the ribbing again (as explained above) and knit it for 6 rows. Bind off!
My wramers are 16 cm long and about 21 cm wide (I measured them after sewing the ends together – silly me!)
Note: Please note that I cast 38 sts because I have fairly small wrists (15 cm). If you have longer/bigger arms/wrists cast more stc. then suggested here. Remember that you have to have an even number of stitches.
Legend:
K= knit so K2 means knit 2 stitches
P= purl, so P2 means purl 2 stitches.
Further help* – Burdastule posted a how-to on ribbing a while ago!
Material Notes
1 (100gr.) ball of thick yarn (60% wool/ 40% acrylic) for two wristwarmers.
Knitting needles – 3mm.
Difficulty
Novice
Categories