Water and Jam (Proofed Pattern Piece Technique and Fleshed S...
Added Feb 25, 2010
Sydney (Inner We...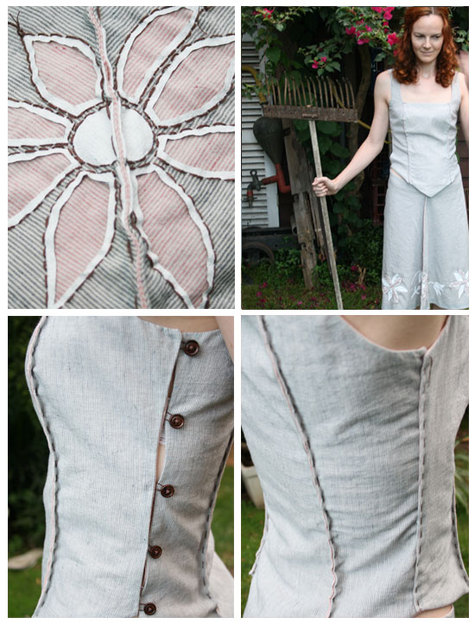 ShareThis
Description
Techniques give coherece to Alabama Studio's Style. And they are a contribution to art that goes beyond an aesthetic.
This project contributes a "proofed pattern piece" techinique and '"fleshed" seams, inspired by Alabama Studio. The proofed pattern piece techinique involves creating and completing each piece of the pattern separately, first. Cut each piece of the pattern you are making from two different fabrics. Place the two different fabrics right side together, stitch, leave a small opening, clip corners and curves (where necessary) turn and press. Each piece has two 'outsides'. There is no wrong side of a piece. They are independent pieces brought together only by the stitching you see.
This technique works well with fabrics that have no wrong side (weaves) – they are reverse applique ready. The seam associated with the technique is "fleshed" seams. These look similiar to the Alabama studio "open felled seams on the right side" and have no raw edges instead you see the finished seam of the inside piece (the "flesh").
Although this is new fabric, it is organic. And the resourcefulness of the proofed pattern technique is… double the outfits. Fully reversible! Blue top and skirt; Blue top and pink skirt; Pink top and skirt; Pink top and blue skirt! Add a pair of jeans and that's two more.
Creating each individual pattern piece in its "proofed" form is a slow process. During that time the maker can consider the final garment in different ways.
In this outfit I can see the coastal town where I grew up, the gothic victorian house in which I now live and the influence of Alabama Studio. The Australian native "flannel flowers" that dance around the skirt's base are the kind you would see on a coastal walk…
And wait one organic cotton picking minute. That's an Alice in Wonderland bodice, too!
Time spent focussed on pattern, fit, materials and technique. These are co-ordinates that can become more and more embellished as time goes by. I look forward to seeing what they become.
[I came up with this technique while waiting for the Studio Style book order to be shipped from the US – I didn't realise the style was mainly jersey! And, so, this technique extends the look of Alabama Studio to non-jerseys… organic ones, of course!]
Material Notes
organic cotton fabric from Japan ("edo jam" and "edo stream"); linen thread from France (we don't have Coats and Clarks button hole thread here in Oz!); wooden buttons; fabric paint
Difficulty
Intermediate
Related Techniques
Categories
Credits
stencils

fabric

buttons

background ambience

"Handsome" the cat