Vintage Victorian
Added Jan 8, 2012
Murfreesboro, Te...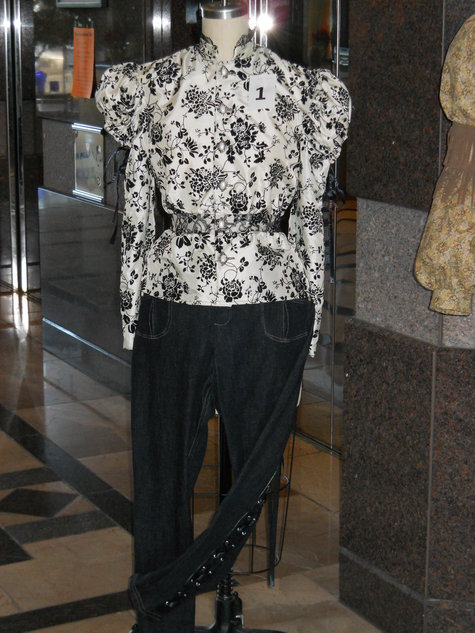 ShareThis
Description
This was my final project for Pattern Drafting 2: a blouse and jeans inspired by the victorian era. For my last final project for Pattern Drafting 1, I did not hit the ball out of the park like my skills really can, so I wanted to put a lot of talent into this project.
The jeans: I used a dark denim and made them skinny jeans. Because there were bustles to accentuate ladies' behinds, I used round pockets for added effect. Corsets are also well known in this period, so on the back of the pants I created a faux lace up that led to just under the butt for further accentuation. I used 52 eyelets, which was time consuming and killed my fingers. I also used a gold vintage style button to finish off the look.
The blouse: I used some white taffeta with black fuzzy floral design. To make it awesome, I create sleeves that have a hole in the center of the cap, which can be found in the book Pattern Magic. The pattern for my sleeve is as tall as my partner, and he's 6 foot 3 inches!!! Also figuring out how to sew the darn thing was a challenge. I made the yoke on the back like a stair step that came to a point. All parts of the outfit have lace somewhere.
This outfit was so good that it was nominated for the Juice Award, an award given to a student whose final project was considered exceptional. That's why there's a "1" on the blouse. I won't know if I've won for another couple of weeks, but I think the rocker-billy dress won, since it disappeared from the back lobby. Oh well, it was an honor to be considered, and I'm so proud of this outfit. I think it makes great portfolio material.
Material Notes
Taffeta, demin, lace, lace trim, vintage buttons, eyelets, ribbon, bias tape, calico (pocket and panel lining)
Difficulty
Advanced
Categories