Verily, Fair Maiden
Added Apr 8, 2012
by pambox
Sydney, Australia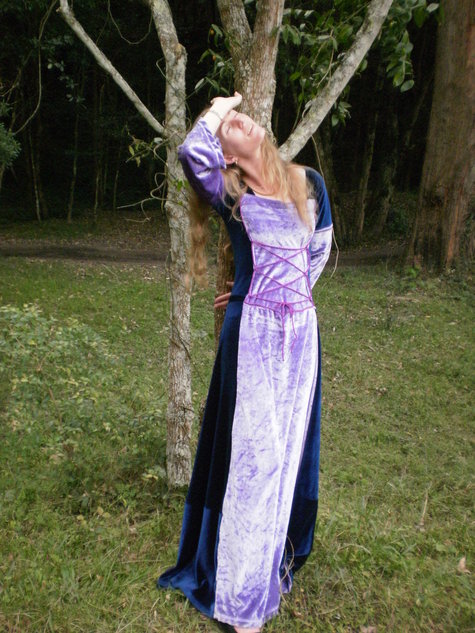 ShareThis
Description
This weekend I went to a Renaissance Fair with fellow Burdastyler Ezzles and her flatmate. To get in, you have to wear "an attempt" at pre-17th Century clothing. We only found out about this Fair on Tuesday, so that didn't leave much time to make anything. I also don't really have any use for Renaissance costumes (I can't really see myself getting into it like the people at the Fair do) so I didn't want to put in too much time and effort. So this dress is, well, fairly half-arsed – think the Simpsons episode with Sherry Bobbins and her song, 'Just do a half-arsed job', that describes my attitude to this.
The dress is made from two things I already had. The indigo is that really horrid stretch polyester crushed panne that costs at an absolute maximum $7.50 a metre, the purple is I'm pretty sure a cotton and so a bit cooler, softer, and more breathable. I'd bought the indigo years ago to make a coat I never finished, and the purple was originally my year 10 formal dress, then cut in half to be a skirt. I didn't have the time or interest to buy a pattern, and I also didn't bother measuring anything but the indigo upper sleeve, for which I did use a pattern piece. The rest was measured by eye.
For the purple, I cut off the seams and evened the pieces out, using one piece for the lower front of the skirt and the top half of the other piece for the bodice. The lower piece was cut in half and became the lower sleeves. The indigo already had two pieces cut out for the back of a coat, which were sized approximately for a half circle skirt. So I just sewed those two pieces together. They weren't long enough, but fortunately I had just the right length left of this fabric (don't you love that happening?) to be the bottom half of the skirt. The bodice sides had also already been cut out, and the bodice back was just guesstimated, and then it was all sewn together. I added the cord partly for the look, and partly because the dress was a little loose at the waist. The cord is just hand stitched on with gaps left to thread the tie cord through. And a little trick if you ever use cord like this – to stop it fraying I dipped the ends in melted wax, it works brilliantly.
So this is my Ren Faire dress, sewing one of my most hated fabrics, for a costume I don't think I'm all that likely to wear again, but at least I used up some stuff I had lying around. And enjoyed the day, too, of course!
Photos by Ezzles
Material Notes
Stretch crushed panne (polyester and cotton)
Difficulty
Intermediate
Categories