Velvet and silk top with draping on the back
Added Apr 25, 2015
by isafraizy
Gothenburg, Sweden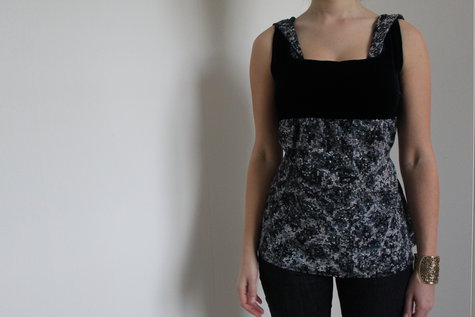 ShareThis
Description
Here we go, finally some pictures of the projects made during my sewing class! This comfortable velvet and silk top is made especially for big meals – understand that it's not too tight so that I can still eat lots of the delicious food that my family will cook when I'm back in France (aaah fois gras, saumon fum, fromage et dessert!).
Sewing the invisible zip took me more time than I expected but I couldn't be more pleased of the result because every border and every seam just fits perfectly.
That was so delightful when my boyfriend Romain looked at it with his critical eyes and couldn't find a single defect. Wait, he found one improvement though: the top was a bit too loosy around the waist. So I added the waist link in the back just to please him. Turns out it's a pretty good idea!
Here I used velvet for the "bra" part and silk for the draped neckline and the lower part of the top. Velvet calls for spring or fall, when it's chilly outside, and it would be so easy to adapt this top for summer by just replacing velvet by liberty or brocade.
Hope this will inspire you and if it does, please let me know about the result!
Blogged here
Difficulty
Intermediate
Categories