V-neck T-shirt and A-line Skirt outfit
Added Mar 24, 2013
by debycoles
George Town, Cay...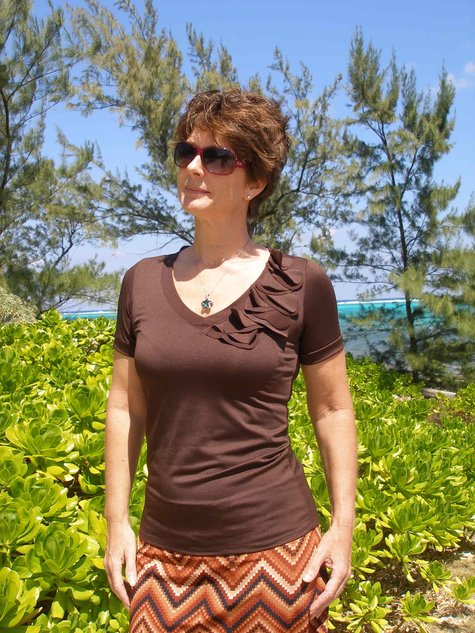 ShareThis
Description
Do drop over to my blog at http://so-sew-easy.com/v-neck-t-shirt-and-a-line-skirt/ to read more about my project for the embellished t-shirt and a-line skirt.
You may have recently seen my scoop neck t-shirts. Love these so much, great casual t-shirts for everyday where. The next item in my Sewing With Knits course is the V-neck T-shirt. The neckline is a little more tricky to sew because to make it look good, you have to line up the V part of the neckline with the V part of the body of the shirt. But the instructions are excellent. Having a video tutorial with the instructor talking you through it is so much easier than trying to figure it out from written instructions. And she doesn't get it right first time (on purpose?), so she shows us how to adjust and try again until it lines up nicely.
The arms are also treated differently on this shirt, with a little band instead of a turned over hem. This little cuff can be added to the sleeves or the bottom and is an option on both styles of t-shirts for a different finish. I think it makes this t-shirt look a little more 'formal'?
I also added a little extra embellishment of my own along the neck on one side – just some simple heart shapes of fabric, left raw, folded in half and stitched on sideways across the middle. I like very much how this came out.
To go along with the shirt, I found this tiny remnant of the brown zig-zag fabric for just a couple of dollars and thought it went nicely with the brown for the shirt. I made my own pattern by basically drawing round an existing skirt I already owned. You can't really go wrong with a basic A-line skirt. I used a simple self-facing instead of a waistband. I used my new zipper foot for the center back zip and ta-dah – done in no time at all.
I made a GREAT job of lining up the pattern on the back seam of the skirt – or at least to start with. After wearing a few times, the back has stretched out around my bum from sitting, and now that back seam looks all wrinkly where the fabric has stretched. Shame. Wish I had a photo from before – I was so happy with it. It's still wearable and for a couple of dollars for the skirt fabric and about $5 for the t-shirt fabric, I got a outfit I love for not much money or time!
Difficulty
Novice
Categories
Credits
So Sew Easy blog