Un petit batik au wat d'angkor
Added Jan 26, 2011
by littlewren
Rutledge, Pennsy...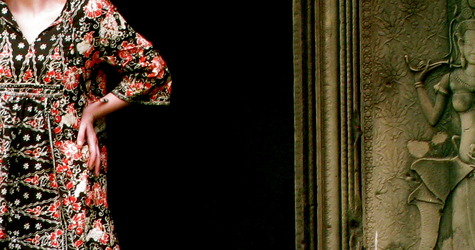 ShareThis
Description
as far as I know there is nothing particularly French about this dress, or me for that matter! But I like the idea of a little Batik in a place as dreamy as Angkor Wat. Just sounds prettier in French. Since Cambodia was colonized by the french I suppose ya'll might be able to let it slide? : )
My husband and I just returned from a trip to Cambodia. Our life in China is quite cold and dull at present since our home has no central heating and we have no students here. We had 10 more vacation days and decided to spend them in Cambodia. Who would pass up the opportunity to see one of the 7 wonders of the world! As soon as we got off the plane in Siem Reap we exhaled. Exhaled out all the cold, cold air of China and breathed in this warm, friendly, beautiful people/country/culture! When our feet hit the tarmac at the tiny airport we fell in love with this country.
We got to our hotel and it was a dream. Bright green tropical plants entwining hammocks and a chic little restaurant. After a quick look around we headed out for our first day at Angkor Wat.
This place is so magical and dreamy. With my vivid imagination I had no trouble pretending I was one of the early explorers from the west who first stumbled upon this amazing edifice hidden in the jungle! It is full of amazing bas reliefs, tumbling walls and long hallways. Remains of paint on the walls inside make exploring this place like walking through a modern art gallery. Amazingly beautiful!
I'm afraid my dress pales in comparison to the beauty and intricacy of its surroundings! My husband was a real trooper, taking pictures of me as we went along. He claims to be a non-artist, but he is getting to be a pro at composing these images.
Making this dress was mostly about combining different pattern pieces and ideas. I used some bits of patterns from a Japanese pattern book called quoi quoi? other bits I changed or made up as I went along.
Cambodia made a big impression on me and I'll be documenting more about our trip and adding more photos of the clothes I made for the trip… (more projects to come!) If you're interested there'll probably be extras and trip notes on littlewrenderings.shutterfly.com within a day or 10 :)
Material Notes
Our dear friends Pete and CL brought back this fabric for me from a recent trip to Malaysia. They asked someone where they could go to get some good Batik fabric. The person brought them over to a friend's personal batik studio where Pete and CL were able to not only see the process but actually make some batik of their own! As with all my traveling friends I beg and plead for them to bring me fabric back from where they were, and being such good friends (and CL a true seamstress herself) they picked out this bright whimsical print. The most interesting part of the print was in one long strip on one side of the fabric. I wanted to showcase this part since it is so interesting, so with much care and strategy I figured out how to get it down the front of the dress. I ended up running out of fabric near the end so I had to do the sleeves in two pieces each. If I had only one wish from the sewing fairies it would be just two more inches of fabric on the bottom… (I might ask for three but I don't want to push my luck… I need my sewing fairie on my side!)
I'm not sure exactly what kind of fabric this is… a blend of some sort. Whatever it is, it was wonderfully cool on a bright sunny day of exploring the 7th wonder of the world!
Difficulty
Intermediate
Categories
Credits
Photographer extraordinaire

my dear sweet patient husband
Jan 27, 2011, 11.59 AMby nessys

Jan 27, 2011, 12.42 AMby Erin E

Jan 26, 2011, 08.07 PMby sigrid

1 Reply