two part baby bib
Added Oct 27, 2013
New Market, Tenn...
Step 1 All Instructions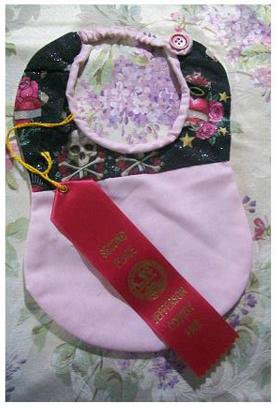 Cut pattern pieces from printer paper
2. Layer the batting and backing fabric together and pin along
edges to hold.
3. Pin backing/batting pattern piece on layered fabric and cut
out. Making sure to cut on the out side of the black line.
And set aside.
4. Pin bib top pattern piece to bib top fabric and cut out,
slightly away form black line. Do the same with bottom
piece.
5. Pin the straight edge of the top of bib to the straight edge of
Bib bottom, Press the seam.
6. Lay bib front upside down on bib backing fabric. Your layers should bib front, bib
backing, bib batting.
7. Sew around leaving a small section open for turning. DO NOT SEW THE NECK!
8. After sewing around turn right side out and press with warm iron.
9. Cut a bias piece of fabric of your choosing and sew around neck as bias binding.
Fold under edges.
10. You can use Velcro dots as closures on the tips. The bib shown here used an inset
covered elastic cord with self-loop buttonhole and large baby safe button.
0 Comments on Step 1
Patterns for this Project