Twisted Front Skirt 03/2012
Added Mar 19, 2012
Munich, Germany

Step 3 Sewing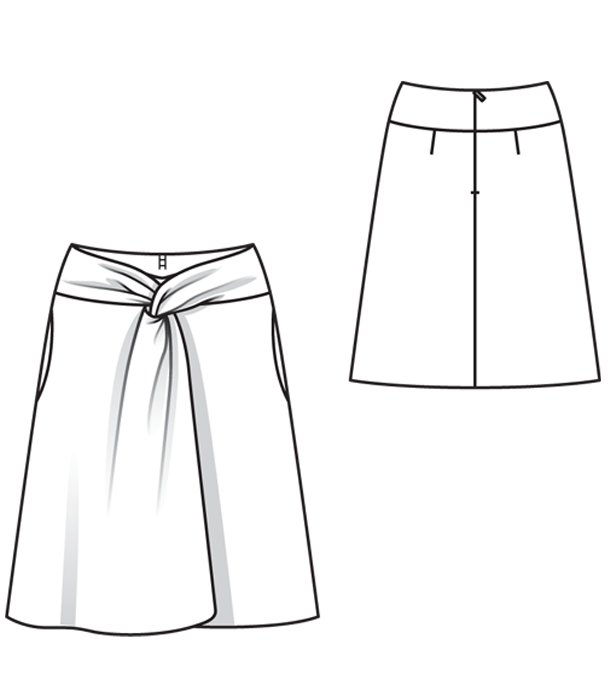 Lay front skirt panels right sides facing. Stitch front edges together below marking. Spread the skirt panels apart. Press seam allowances open, then go on to press edges under as far as upper marking.
First, on right front skirt panel, fold upper part (integrated yoke) downwards at an angle and lay toward the right side seam edge. Pin edges right sides together, from seam number 1 to marking. Lay the lower edge of outer front waistband piece over it, right fabric side of waistband lies on wrong fabric side of integrated yoke. Pin from seam number 1 to marking and stitch. Trim allowances to 1 cm (3/8 in) wide, including those on opening, next to marking. Turn waist band and integrated yoke up and press seam allowances down. Fold the loose left half of the waistband backwards and pin. Pull integrated yoke of left front skirt panel out from inside, through the opening in right side seam, then turn down toward left side seam edge, at an angle (right sides facing). Pin edges together from seam number 1 to marking. Pin left half of waistband in place over it. Stitch from side seam edge to marking. Trim the seam allowances and press down. Baste the yokes to the waistband on side seam edges and on upper edge, each up until marking.
Stitch the darts in the back skirt panels and press toward the center. Stitch the outer back waistband pieces to back skirt panels. Press the seam allowances up.
Stitch the side seams, not stitching across the pocket openings. Press seam allowances open. Pin pocket pieces right sides together with seam allowances of pocket opening edges. Stitch pocket pieces in place, close to side seams, and along seam line at pocket openings. Press pocket pieces forward and stitch together. Pin upper pocket edges in place and stitch from right side along horizontal seam.
Sew invisible zip to back waistband pieces and skirt panels. Stitch centre back seam from lower edge to zip.
Stitch side seams of inside waistband. Lay inside waistband right sides together with outside waistband/ yokes. Pin upper edges together, not catching twisted yokes at centre front, between markings. At zipper slit, turn inside waistband back, approx. 5 mm (3/16 in) before edge of slit, and pin to upper edge. On the skirt, turn allowances of slit edges to outside and pin to upper edge, over inside waistband. Stitch along upper edge of waistband. Trim seam allowances and clip allowances at centre front. Turn allowances on slit edges to inside. Turn inside waistband up and stitch to seam allowances, as far as possible, close to seam. Turn inside waistband to inside and sew to zip tapes. Work from right side to stitch along joining seam, catching inside edges of back waistband pieces. Hand sew inside edge of front waistband piece in place, as far as possible.
Press hem allowance to inside and sew in place by hand.
0 Comments on Step 3
Patterns for this Project