Tweedy Minoru
Added Oct 29, 2012
Leicester, Unite...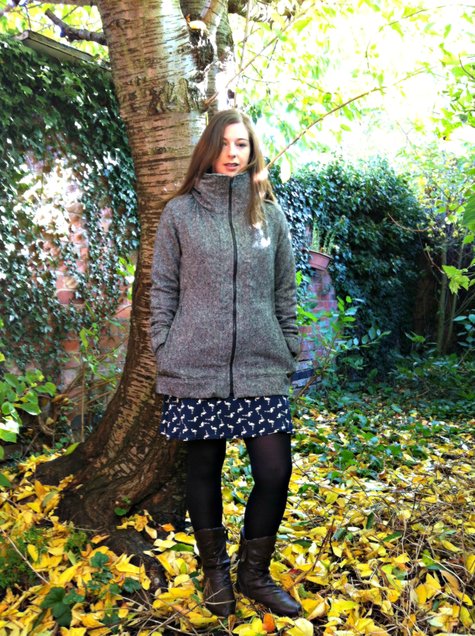 ShareThis
Description
This jacket has been hanging around, staring at me mournfully for most of the year. Originally, I was participating in the Sewaholic sew-along… but I think I must have cocked up somewhere and then after the inevitable hissy fit, I hung it up and then ignored it. Then I realised that it was autumn, and a warm hooded jacket would be just what I needed for the depressing autumn weather in the UK. After having a look at the rest of Tasia's sew-along posts, I realised that I was really close to finishing it, and decided to get it done asap. After ripping out the wonky stitching at the waistband (it's all the lining's fault!) it took me no time at all to finish! But, in my heady excitement at the prospect of FINISHING ANOTHER PROJECT I forgot that I'd painstakingly taken the time to add in pockets at the side seam, and after hemming the jacket (with two rows of stitching no less!!) I realised that I had sewn right through the pockets, and could hardly get my hands into the twisted remnants of the pocket bags. Sigh.
The outer is a kind of tweedy wool (I'm terrible with fabric terms! It's like an alternating black and white wool, so it looks grey..) that I bought from the market for about £6 a metre. I was a little suspicious that it was 100% wool, so I did a burn test. If it isn't 100%, it's definitely high up there.The lining is made from this amazing sari I found in a charity shop in town. I think it cost me about £4, and it was 45" wide and there was about 4 metres of the stuff! Bargain! Until I realised that it was a DEVIL to cut, and ended up having to recut pretty much every lining piece.
I did attempt to cut all the lining pieces to make the most of the wonderful border pattern of black with pink lines and a kind of floral scrollwork, but I was clearly trying to be too clever, and then at the end realised that the hem of the jacket would come up and cover it… Oh well!
So there we have it! It may have taken months and months, and it certainly isn't perfect by any means, but it's something that I'm really proud of and that helps keep me warm and dry with a smile on my face!
Material Notes
Grey tweedy wool and aqua sari material (definitely has some polyester in there somewhere, but apart from that, I've no idea what's in there!)
Difficulty
Intermediate
Categories
Season

For

Garment Type