Triptych-3/3
Added Nov 22, 2010
London, United K...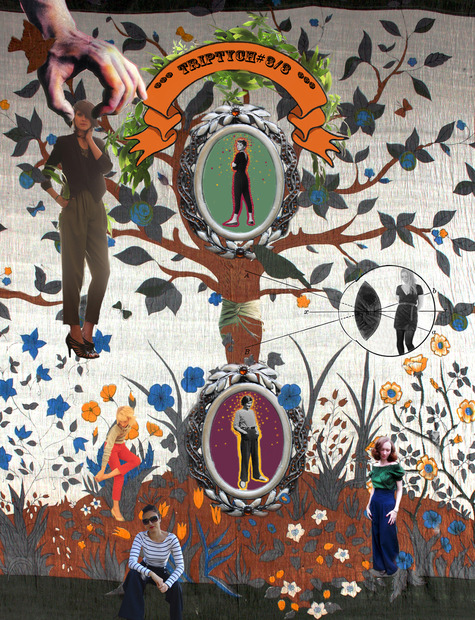 ShareThis
Description
Audrey Hepburn and Gabrielle Chanel 'tie the knot'!
I started this pair of trousers a few months ago but gave up as it required too many adjustments. This garment has been a challenge from the very outset, so only a 'challenge' gave me the incentive to complete it the last couple of weeks.
The books Drape-Drape and Pattern Magic are implicit references and I used the Marilyn pattern as a template. The pair of trousers meant to be denominated 'Triptych 3/3' (you may want to check out the first and the second instalments) will appear very tame in comparison with this one but I haven't photographed them yet. They will be a sort of epilogue or sequel to this reshuffled 'trium vira'.
The fabric used was a real bargain so I decided to give it a go. To my dismay, I stained it (water marks are irremediable on cotton). Still, I perceive it as a work in progress although I always tend to take experiments very seriously.
First of all, I had miscalculated the amount of fabric required. With the Marilyn pattern, it is difficult to adjust the length of the garment after the fabric is cut (it is easier to hem when legs are straight rectangles).There must be a golden rule or measurement for the ankle 'exposure'. The undercurrent principle of the Marilyn pattern is to draw the attention on the part of the body mentioned above (see Audrey Hepburn wearing her Capri pants). "Butt, hip and waist are 'right in your face' ": I hear you say. So far. I have never heard of anyone complexing about their ankles, so, I celebrated this fact by wearing the 'highest' pair of shoes I can tolerate heel-wise.
I don't usually 'do girlie' but of course, the garment could be dressed up or down. I always feel like being a clerk from the 'Ministry of Silly Walks' when I wear high heels.
I digress slightly. I also used the Bella pattern as 'backdrop' for the waist. The back zipper proved handy during the tailoring procedure. I could pull the trousers up and down as I was adjusting the knot on the belt section. I was thus to say 'carving it' on myself, endlessly criss-crossing the two front panels (wrap section and leg are one only section) at waist level and tailoring them accordingly. Then I had enough to pull my trousers up and down like a maniac.
After the very last session of adjustments, I can see its flaws. there is still a problem at the groin section (still an excess of fabric around that area) and a little tension at the pockets level. I decided to include pockets make it more complicated than it already was! They are not very functional anyway [enough place for a handkerchief though so I could 'cry 96 tears' (only)]. I heavily used invisible stitching for final adjustments to keep the fold in place. I had to create an opening on the side (with snap fasteners) as the garment was too tight. I need to fix the problem at its basis: reaping the trousers off and redraft the pattern. Uhmmm…. From then on, I shall ponder over the intrinsic difference between the pleat and the wrap, control and chaos. Perhaps reading 'The Fold' by Gilou (the nickname I give to the belated Gilles Deleuze) will 'in theory' help me with my pattern redraft. Ok, ok …I wrap it up….and what about the 'joie de vivre', 'franche rigolade' and gaiety in all this? Week-end of economical doom on top of things….
If I knew how to hyperlink I would include a jukebox selection to my party outfit.
So for 'joie de vivre' then, I guess it is best expressed in this Monty Pythonesque collage (credit to Terry Gilliam cartoons) where members creations are popping out like mushrooms :Epleskall Burberry inspired 'Knot Dress', Stitchywitchy 'The Kate Jeans', Anajan's Bella trousers 'Nautical by Nature' and Reneebies 'Red Blue jeans' .
Material Notes
Cotton etc..
Photography and graphics by Hlne M.
Difficulty
Advanced
Categories
1 Reply

Nov 26, 2010, 08.34 AMby kana

Nov 23, 2010, 04.08 PMby nidhi

Nov 23, 2010, 03.45 PMby seazoo

Nov 23, 2010, 02.12 PMby bekaem

Nov 23, 2010, 12.40 PMby janul

Nov 23, 2010, 09.36 AMby anajan
This project is based on
Make it