Traditional Dutch knitted scarf
Added Jan 30, 2010
by flosiepoos
Oxfordshire, Uni...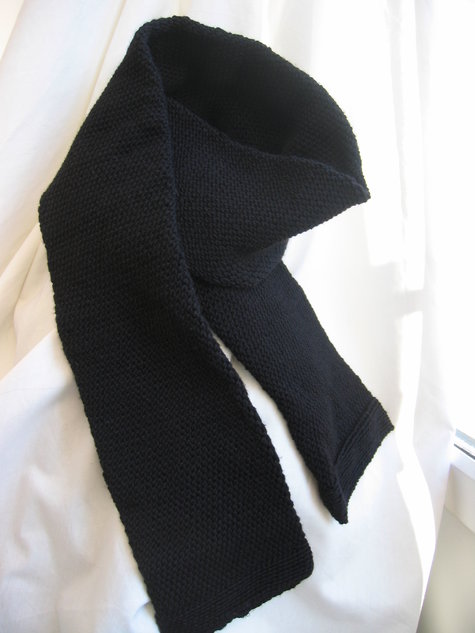 ShareThis
Description
My mum taught me to knit with a completely different needle (or pen, as she calls it), which people always mistake for crochet. I do crochet too and indeed it's not the same but the needle used for this type of knitting looks a little bit like a crochet needle although the technique is completely different.
With this technique, you go round, and round, and round and… until you are either dizzy or finished (or both!). It is said the technique originates from shepherds on the heath who used to spin yarn while walking and then knit their garments, also while walking. You can imagine that classic knitting needles aren't going to do it if you're trying to keep your lambs from getting lost. Knitting like this means you only unravel one loop at a time if you do drop your stitches while chasing off a sabre tooth tiger; very practical on the go. Not many people use this technique these days, in fact, I only know people my mum taught it to but when she was a girl it was a much more commonly used way of knitting where she grew up.
You can knit anything you like: cardies, pullovers, mittens, gloves, socks, hats, shrugs, hand muffs, baby clothes, blankets… you name it. You start the sleeves and body of a pullover and knit the sleeves onto the body resulting in a completely seamless result.
You can either cut open the tube and hem it to make a cardie or jacket, or you can use a side-to-side stitch (which I haven't tried myself yet, being a humble beginner).
I've added some pictures of the needles used. The mitten keyring my mum knitted – before anyone asks how to do mittens, I've not mastered those yet! I thought a key would help show the dimension of the needle.
If there are any takers for a tutorial for this technique, let me know and mum and I will get a-filmin'! ;-)
Now for my scarf, it is simply a long tube which I've knitted shut at both ends, and I used two different stiches for decoration. Anyone can make this! Because it is double, it drapes beautifully and is very warm. Without a doubt the softest scarf I've ever owned!
PS: I've now added the long-awaited tutorial – see below under 'related techniques' or visit http://www.burdastyle.com/techniques/dutch-knitting-or-shepherd-s-crochet
Material Notes
The yarn used is about 300g (six balls) of 75% extra fine merino, 20% silk and 5% cashmere Sublime DK in black (shade 13). www.sublimeyarns.com
Difficulty
Novice
Related Techniques
Categories
Mar 18, 2010, 09.19 AMby goggs

1 Reply

1 Reply