TR Origami Dress
Added Oct 2, 2013
Singapore, Singa...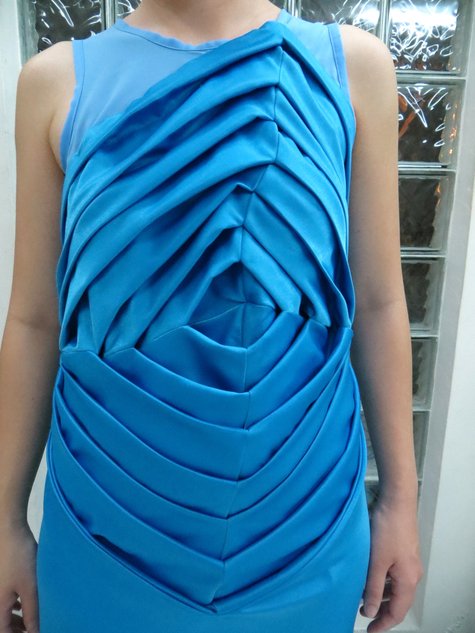 ShareThis
Description
The most complicated dress I've ever dared to attempt!
I don't live the sort of life that normally requires floor-length gowns, so when I found that I had not one, but TWO formal dinners coming up, I had to make something. It took me 2 whole months to make this dress, though that includes the time I spent dreaming and researching and conceptualizing (my draft dresses in the last picture), and procrastinating through the difficult bits! Also I didn't have much free time these months :)
I drafted this dress from scratch, modifying my standard shift dress sloper. The very interesting diamond-shaped pleat in the centre was drafted using a few YouTube tutorials (by Arif Khan who uses Shingo Sato's Transformational Reconstruction techniques, here). Basically you just put on the muslin, and draw the pattern onto yourself directly with a marker – that's me in my green muslin with a diamond drawn across my chest, it was the first time I made such a well-fitting muslin! Then you cut apart the fabric bits and insert the pleats on paper (that's the second-last picture), and translate the whole thing onto the fabric.
My favourite details:
1. I like how the diamond wraps around to the back, though that caused me a good deal of grief since I had to insert a zip through it!
2. I lined the diamond part with one of my husband's old business shirts – love the idea of closeness to him!
3. I closed the bodice back with an odd button from my grandma's old button box.
4. My brother who is an architect was researching on Pamukkale around the time I was dreaming about this dress. I had visited Turkey on my honeymoon, and the lovely memories came rushing back when I saw his images. This lovely blue colour is almost exactly how Pamukkale appears in my mind.
It wasn't actually crazy difficult to sew up, you only have to be precise about sewing the corners together. I was a bit lazy with that! It was quite a tedious job doing all the piecing though. I'm not very pleased with the back – the interface between the sheer and the satin looks funny….oh well, I must just be sure to stand more against the wall when I wear it!
I'm awfully, awfully glad that I decided to spend money on very nice fabric – I used crepe-backed satin for this, and at $18/m it's the most I've ever paid for fabric! It was a dream to sew though – it looks so lovely and slinky yet it didn't move around at all on my machine, and cutting it was a breeze. Imagine how horrible it would have been sewing all those pleats on satin or silk! The fabric also holds the pleats very well, and hides all the hundreds of pinholes I made!
I don't think I will make such a complicated dress again in a hurry, though I think a simpler version in a sturdier fabric would be interesting for everyday wear. I'm glad this one turned out fairly well, and I've already worn it to the first of the events it was intended for. It held up!! Yay!
Material Notes
4 metres of medium blue crepe-backed satin for the main body of the dress (60in wide)
1 metre of slightly sheer polyester heavy weight chiffon for the back
3 metres of medium weight polyester lining (42in wide)
Difficulty
Intermediate
Categories
1 Reply

3 Replies

Oct 3, 2013, 11.35 AMby pambox

1 Reply

Oct 3, 2013, 11.32 AMby Innamc

1 Reply

1 Reply

1 Reply

Oct 2, 2013, 04.42 PMby kisses

1 Reply

1 Reply

1 Reply

1 Reply

1 Reply

1 Reply

Oct 2, 2013, 10.50 AMby schnui

1 Reply