To Frame Your Face
Added Mar 5, 2013
London, United K...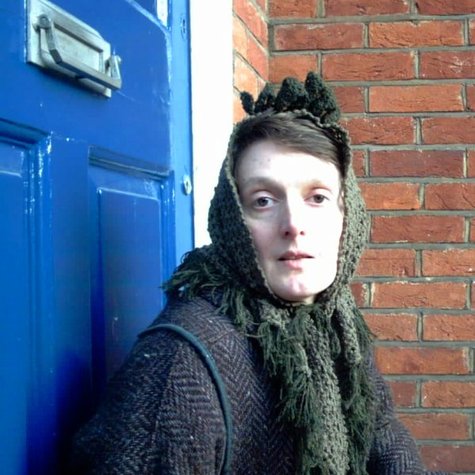 ShareThis
Description
I came across a gorgeous vintage booklet of crochet patterns and thought this one looked the most practical. Why bother with a hat and scarf that leave your hair sticking up on end, when you can wear a head shawl?
Knotted headscarves do have a tendency to make me look like a Russian granny, and moreover mine keep coming untied and leave a nasty draught down the front of my coat where they knot under my chin. So the idea of a fringed shawl that would cover both head and shoulders and tie on securely was attractive. (The pattern even suggests that you will find it practical for motoring or riding your bike – implying an open-topped car, presumably! – though I haven't tested it to quite those extremes.)
As a crochet pattern it isn't exactly challenging, being a triangle composed of loops of chain stitch. Little picots pointing in opposite directions on each row are created by the simple expedient of working them at the start of each loop rather than at the centre, and since this type of pattern has an awkward habit of decreasing on every row unless an extra half-motif is worked, the triangle is formed extremely easily by merely working the pattern straight up from bottom to top and utilising the automatic decreases!
There was a slight hitch caused by the total lack of any indication of how large the stitches should be. I had to guess, and guessed wrong (I assumed the hook size was given in standard American terms, but it isn't). When I got to the end of the pattern I discovered that I had a triangle far too small to drape over my shoulders or even fit over my head; I had to enlarge it by six inches before I could follow the next stage of the instructions, which would have been easy if it had been a two-way crochet pattern. Unfortunately it had to be worked from the bottom upwards, so I then had to invent a stretchy join to attach the new base onto the triangle without creating a rigid seam in the mesh. It's a good thing crochet is very adaptable stuff and you can attach things to all sides of stitches….
The other hitch was caused by the peculiar ornament that was designed to go on the top of the head. I couldn't work out at all how to get it to look like the one in the pattern picture, where the lady looks as if she is wearing a mantilla comb. My first attempt was incredibly floppy, so I tried using the wool doubled and a bigger hook. This produced a preposterous object that was so heavy that it sagged over my eyes! Eventually I ended up ignoring the instructions as written and producing a finer version that would work with the lightweight wool I'd used for the main part of the head-shawl.
I also realised that the instruction to 'gather' it meant to pinch the folds slightly from front to back in order to make them look more like bows (and to make them stiffer) rather than, as I had assumed, to sew together the bottoms of the folds to fix them in place and make the tops fan out…. The finished result still gives something of the impression of a dinosaur crest or of a demented cabbage growing out of the crown of my head, rather than the elegant ornament of the original; but it's passable, though I still feel it's the weak point of the project.
I've been grabbing this up almost every time I go out over the last week since it was finished. It's not proof against a biting east wind, but otherwise it's a lot warmer than you would think for a design that is full of holes, and the long 'tails' of the triangle in front work very neatly to fill in the V-shaped opening at the front of my coat collar. It keeps ears and neck beautifully warm – the bit that doesn't stay warm, of course, is the fringe sticking out at the front. But it has rapidly become a wardrobe staple.
Material Notes
Vintage Pingouin Pingolaine 4ply 100% pure wool – slightly moth damaged. 2.25mm crochet hook.
Difficulty
Novice
Categories
Credits
Lily Mills