Tiger tiger (or, actually: leopard!)
Added Feb 7, 2010
by ichigogirl
Stockholm, Sweden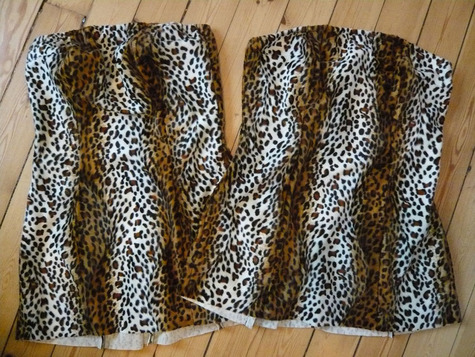 ShareThis
Description
Two fake fur dresses for the dancers at my friend's club. My first and last ever commisson without any pay involved. I must have spent over 12 hours in all, with one fitting and construction of individualised patterns…. and I didn't even hem them since a)It didn't show and b) I finished them at 2am the night before the big club evening, and also the day before another day at work for me…
I wish I had pictures of the girls wearing them, but I actually haven't even seen it myself, I was busy guiding my friends around Stockholm then (and having a great time!). Oh, well, life…
Process: Intend to make a bathing-suit like costume like the one in the last picture. Discover it's impossible to find a suitable pattern. Find out the dancers are quite a lot bigger than me (not that surprising I guess) which meant winging it would be impossible. No pattern to be found. Realise I might have a vintage dress-pattern that could work for the top part. Make a simple waist/hip-length toile based on the dress and a bottom part toile based on the Alison bathing suit with approxiamtely the right measurements and a LOAD of ease. Find out at the fitting that they have found another dancer = two costumes (which WAS the initial plan but I had thought I'd get away with just one…). Try the toiles on the girls only to discover that the first dancer had gotten the measurements mixed up and the bottom toile in fact was almost 10 cm's too small (I had been given a hip-measurement of 96cm's and it was more like 106…). Bottom part useless. Scprap initial costume-idea and decide on making mini-dresses (very fortunate because of lack of time). Make two dress patterns based on their measurements and the toile from the fitting, sew until the eyes bleed but get finsihed JUST in time!
At least I didn't have to pay for the material and I have quite a lot of scraps left, yippie, I DO plan to put them to good use (if I can bear cutting in them!).
I'm quite pleased with how the pattern looks on the finished dresses, you can barely see the seams except in the back where the panels were a bit tilted which made it impossible to get it perfect.
In all, a good but very exhausting experience!
Material Notes
Fake fur, goooorgeous but extremely electric
Difficulty
Intermediate
Categories
For

Garment Type

Material