Three-Piece BurdaStyle Ensemble Plus Personalised 'M' Tote
Added Feb 24, 2012
by mahaila
Berlin, Germany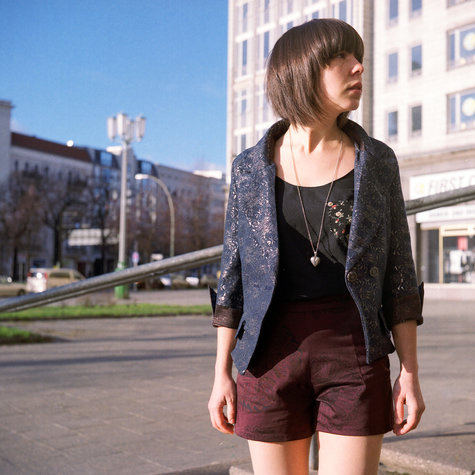 ShareThis
Description
It has been a few years since I made my last jacket, so I thought that it was about time that I took the plunge and made a well-tailored jacket. I must say, it was a little more challenging than I had initially anticipated. So naturally I learnt quite a bit from this project. I created the shorts, the top, and the 'M' alphabet tote bag to complete the entire ensemble.
1. burda style magazine Cropped Velvet Jacket
This was certainly an exciting project for me. It took me awhile to find this really lovely brocade fabric and I just knew that I could make a unique piece with it. First step of the jacket construction process was the muslin draft. I was so glad that I made the muslin version first as I ended up altering the pattern a great deal plus I was able to go through the instructions with little fear of making major mistakes. I also had great difficulties in understanding sections of the instructions. I often find that sewing instructions can be difficult to decipher. I have recently been trying to decode the German instructions in the magazine. My poor German language abilities make this task quite challenging, however I am sad to say that I discovered that the English version was just as hard to decipher. So I was naturally excited to read that BurdaStyle has recently reviewed and updated some of their pattern instructions. For the jacket I relied on YouTube clips and my pattern making book to guide me through the construction process. I ended up altering the pattern a great deal by significantly reducing the overall size. Alterations included reducing the cap ease, taking centimetres off each piece of the bodice, and increasing the dart intake. I made the necessary alterations to the pattern and hesitantly cut my main fabric. It sure was a treat working with this brocade. I added a boned cuff as I thought that it would really give some added character to the jacket. I am really happy with the cuff so I think I will share my love through a tutorial…hopefully coming soon.
2. burda style magazine Short Shorts with Back Pockets
I am loving little shorts at the moment. I have already made similar versions in black, navy blue, light blue with coral pockets, stripes, and houndstooth, yet I still have many more on my to-do-list! On this occasion I chose a burgundy coloured fabric with a subtle print as I felt that it would work well with the brocade jacket. I also widened the waistband to make them a little more high-waisted. A recent sewing goal of mine is to finish off garments properly, so these little beauties are fully lined.
3. burda style magazine Top from August 2011 Issue
This is the third version that I have made of this simple top. This top is made with a simple black cotton and I added a little floral pocket to make it somewhat more interesting. My other versions are made with jersey and chiffon (although not in combination). I think that I like the top so much as I like how it is cut.
4. The 'M' Fickle Sense Tote Bag
After having spoken to a heap of sewers it seems that many aspire to have their own little online craft/fashion store. I am one of these sewers and I am happy to announce that in early February I finally opened my own Fickle Sense Etsy Store which features alphabet tote bags and button earrings. It has been a long road. Many things went wrong including…I had great difficulties in finding a screen printing supplier. I struggled to find environmentally friendly fabrics. PLUS I broke my hand and my sewing machine decided to stop working part the way through. But it all worked out in the end :) so if you are thinking of starting your own online (or market stall) store…just do it!
So what did I learn from these projects?
1. Create a draft garment/muslin.
It's the way to go! It saves you heaps of time (honestly it does!) and you get a better product at the end. This is the time where you can make mistakes and alterations. It may feel like it is a long process, but the end garment makes it all worthwhile.
2. Create lasting garments, finish them properly.
I am definitely guilty of rushing through the finishings in an effort to wear the item for an anticipated event. Lately I have spent the time lining the garments, finishing off edges properly, and hand sewing the finishing details….before I wear the garment! This last point is important.
3. Don't underestimate the power of hand sewing.
When I first started sewing, I hand sewed everything! I have recently revisited it in a big way! Hand sewing slows the process down and can allow you to achieve a better fit.
4. Treat yourself to good quality (even if it's once in a blue moon).
Sewing can be an expensive hobby which means that a lot of us can't afford fantastic quality fabrics. I have recently allowed myself to purchase a few items that I have had my eye on for awhile. It's nice to reward your hard work with quality purchases :). Maybe save up all of those spur of the moment cheap fabric purchases and spend your well earned dough on something that you really want.
Fickle Sense Blog
Fickle Sense Shop
Material Notes
Navy blue metallic brocade, purple lining, burgundy cotton blend, locally sourced calico
Difficulty
Intermediate
Categories
Mar 8, 2012, 12.33 PMby janene

1 Reply

1 Reply

1 Reply

1 Reply

1 Reply

1 Reply

1 Reply

1 Reply

1 Reply

2 Replies
This project is based on
Make it