thinking of spring...
Added Jan 15, 2012
Winnipeg, Canada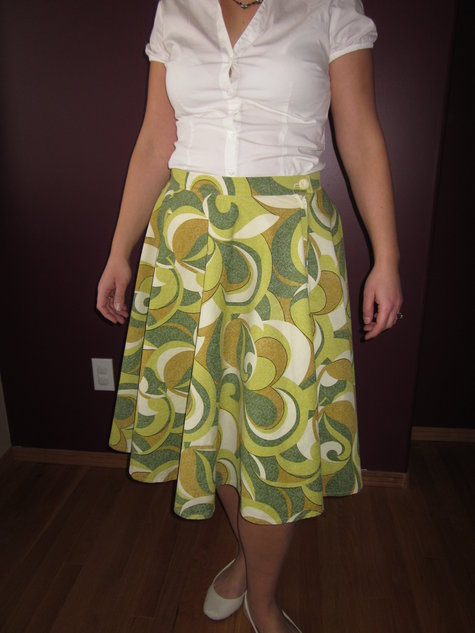 ShareThis
Description
OK, I am backlogged in posting projects. I never seem to have time to get pictures taken of the stuff I make for myself! I finally got around to getting some pictures done, so here is the first of three to post. I always wanted to have a circle skirt. I had bought this fabric off the bargain wall at Fabricland (I at think I paid $3/m) but held onto it for awhile before I finally decided on making a circle skirt. I followed the instructions on Burdastyle, making the paper pattern on kraft paper. I did find that I had to take it in about an inch or so after it was done because the waist pulled out. I am guessing that it is because of the waist being cut on the bias as it has happened on similarily cut projects. I found that to be a pain. Does anyone know a way around that?
I did follow the directions for the Lesley skirt on Burdastyle (which I can't seem to find right now), except for the waistband. I cut a waistband from the material and lined it with interfacing, put on a button and made a button hole, following instructions from a skirt pattern that I cannot recall right now.. I thought it would hold the waist together better, but I still had to take it in. I did make a previous circle skirt that I was quite disappointed in as it has has been taken in once and is still massive around the waist. I lost my motivation to get it done. I had made that one with a much heavier fabric though. One of these days, I will get that one done! I do love this one though. I think the skirt works well with cotton, although it does wrinkle easily.
Material Notes
2m printed cotton, 3/4" button, 7" zipper
Difficulty
Novice
Categories