The Wedding..... Take 2 ``The all Inklusiv Pakage``
Added Feb 20, 2013
Luzern, Switzerland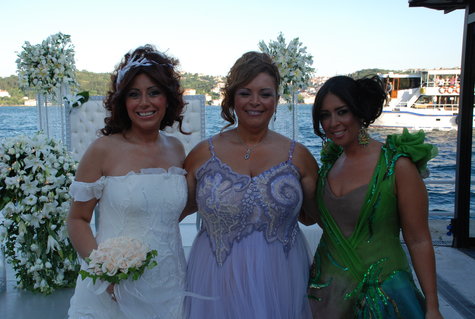 ShareThis
Description
The field Project Description is always soo hard for me to fill up because i could tell a Roman about it but i am sure noone would reals pages long of a descriptions maybe it would be funny or amusing because of my english mistakes hahahahah :) but anyway i try my best to keep it short and intense everyone can ask me then specifik questions wich i would loove to explain :)
as promissed here is the secound part of the wedding again the same beautiful Womens but this time the Bride is the Sister from the last wedding ;) But this time i put everything together because i didnt made single pictures of the dresses.
Wedding Dress;
I used the same technique on the Skirt like the Mother on the last wedding because she loved it soo much and wanted a moore elegant and not that galmorous dress like the Sisters one so i made a really fine mermaid dress with a small train and tried to bring the beadings with the organza stripes together like they go in to each other to ger a moore fluid detailing
Sister Dress:
I have to say she has got a strange taste but doesnt matter for me :D
because of the location and the mothers dress i tried to go down to the sea with my detailings like the leaves and other stuffs down deep there so i made thiss dress its kinda hard to discribe it because there is nothing big to discribe it haahahah:D
Mothers Dress:
for the mother i tried to do a moore Yound design wich would fit her and let her look really relaxed and good
and inspired my self by the undersea world with the beadings.. i lovesd the way how thecorals and the other stuffs grows and becomes beautiful shapes and colours.
Material Notes
Wedding Dress;
I used an American Silk for the gown and ironed on a few layers of interfacing to get it look like a piece of an sculpture
i doupled it with chiffon.
for the stripes i used Organza wich i colored slightly to the end to a moore pinky creaamy colour for the beadings i just used some Swarovski Crystals and normal beads and a little bit Sequins also.
Sister Dress:
for the top i used a really special fabrick wich i really dont know the name of it… hahahaha i came across to it when i was in Paris looking for some fabrics and i really liked the leatheric looking texture and the feeling of it so i bought a little bit of it and she loved it too so i used it for her
fot the detailing i used Silk Organza in different thicknesses and i also coloured it by my self. the hardest part was to bring the brown and the green colour together so that they look good not like a colourblock stuff.
For the beadings i just used different styles of Sequinses.
The Mother:
The Skirt from this dress was simply made of different layers of fine tll wich i coloured by my self.
in the inside of the dress i used a Skin coloured Jersey to give the illusion of naked skin wich i really like.
The top is heavy beaded with DMC Mouline (self individual coloured to match it with the tll) and Swarovski Cystals and some Silk aplications to give a stone like looking to it :D
All theese dresses were also Corsetted
Difficulty
Advanced
Categories