The Selkie Bride
Added Jun 25, 2011
Glasgow, United ...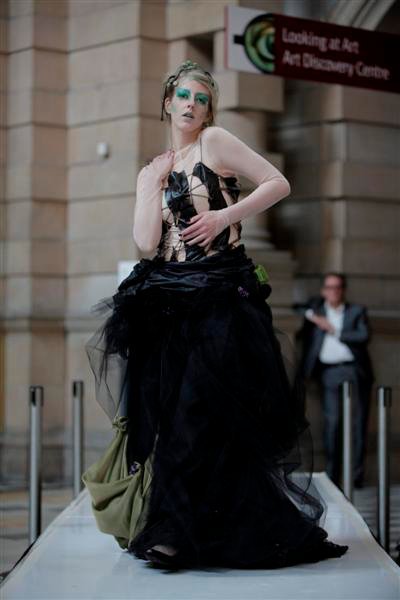 ShareThis
Description
I recently just graduated from college and my garments that danced down the catwalk came from the scottish folktale, 'The Selkie Bride.' You can find the story through this —→ http://www.weingartdesign.com/TMaS/Stories/tmas1-SelkieBride.html
I decided to create the image of two characters within the story, the selkie herself and one of her children, a young girl. A selkie is a creature that is similar to a seal that sheds his or her skin when coming onland and turns into a beautiful man/woman. For the selkie character I decided to make her quite dark and mysterious. Using quite a few techniques I have learned over the last few years. I used various amounts and types of materials to create the overall look, ranging from leathers (fake) to silks to chiffons. I've put up quite a few photos haha, I'm just trying to show how I reached what I achieved overall, starting from my first inspirational images!
The first photograph is ofcourse my graduate fashion show! Held at Kelvin Grove Art Galleries, a big must see if you ever come to Glasgow!
The second photograph is my inspiration page, I began my entire project by taking a small collection of photographs at a beach in Scotland then putting them together, matching them with images, sketch a few things and eventually I began to take my colour pallet from them! In my case I change my mind constantly and began with wanting a skeleton structure at first, something like armour to show that when the selkie is in the water that she's serious and brave. However I may have drifted from that image haha!
The third photograph explains how I created the top of my overall garment! What is not shown in the image is the shape I got the bodice from, I had taken a photograph of a shell and I zoomed in and saw the fine lines that make up the shell. I took the inspiration from the shell and applied it to paper then material. Attatching each part with rope! Took quite a while to do, I added beads to the bodice to make it sparkle in the light!
The fourth photograph shows how I intended to create a long train, with loads of stitch detail that resembles seaweed. However I was unable to create a long train as other garments were going down the catwalk straight after and it would be quite difficult for the model to act with a train getting in her way, this was just an idea that I thought I would share!
The fifth photograph is just some techniques I have picked up! A common one being suffolk puffs! One of my favourite things to make! So simple yet they do so much for a garment! The puffs are meant to resemble sea urchins, and the many beads I added are to catch the light!
The sixth photograph is just a little sample I made when I was going to go down the armour like path…I love the photograph and thought I'd share it. Its made with wire and I know it's small but I had so much fun doing it and would love to make a possible reptile costume doing something similar!
The seventh & eighth photograph, the seventh is my skirt at the verrry beginning! The eighth is my first attempt at a look with the materials I wanted to add, everything was just pinned at this point!
The nineth and tenth photographs, these are at the fashion show! The skirt, everything bar the base in photo 7 is hand sewn! I took me a good few sleepless nights to perfect the skirt and I had the drama of my original model letting me down and having to find another then pick threads and re-sew to perfect it again! But it was all worth it!
The eleventh photograph is a close up on the hair and make up, I would like to mention my friend Lee Colgan who again done the amazing job with the hair and make up! Another outfit that would not be complete without it!
Sorry for typing so much, I seemed to have gotten carried away haha! This was so much fun to make and I was so impressed with myself at the end! Hope you like it! Oh and if you get a chance you should read the story, it's lovely! Thanks! :D
Categories