The perfect shrug?
Added Jun 18, 2011
by ichigogirl
Stockholm, Sweden

Step 4 Measure yourself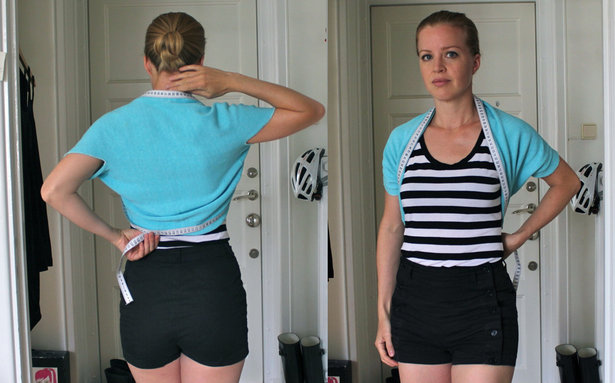 Use a soft measuring tape. Place the measuring-tape as shown in the picture, and compare the measurement to the sum of A+B from the previous step. In my shrug the measurements are about the same, so if you want a fit like in the picture make sure your measurements are roughly equal (pattern and around your neck/back).
If you want to check the sleeve openings, measure around your upper arms and compare the measurement to the sleeve opening measurement in the previous step. If you need bigger sleeve-openings, extend the pattern to make the sleeve-opening longer (this will not change the length of the side-seams but it will the shrug a bit bigger, if you think that will be a problem you can remove a little along the CB edge). See the next step!
Patterns for this Project