The Naiad Frock
Added Jul 12, 2010
by grosgrain
Harrisburg, Penn...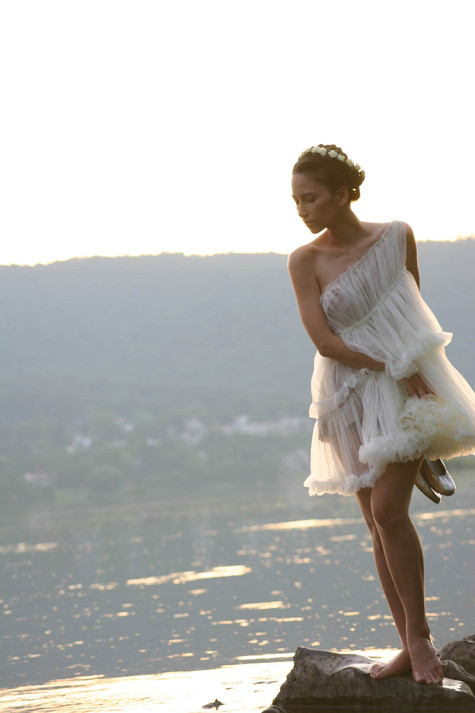 ShareThis
Description
TO WIN THIS DRESS VISIT GROSGRAIN
Are any of you going to any red carpet events soon? If so, perhaps this dress could be for you. I admit, it's not your everyday house frock. It's more of an couture, unusually special occasion frock. But I have to tell you, I thought the end result looked lovely. Could also be good for photo shoots if you are into photography.
The dress is made of fine nylon chiffon, a lot of it, 7 yards to be exact. I gathered the neckline and lower tiers by hand and then I used elastic thread for the fluff at the bottom. It might look like it is see-through but I have sewn a nude colored opaque slip into the dress.
As you can see the dress is sloped to one side. Almost impossible to wear a bra as it dips very low in the back and is one-shouldered. I used packing tape for support (not the best option), but if you used an adhesive bra you might feel better protected. Also, because of its poofy shapelessness I made the dress very short to show off the legs…again please keep in mind that this is NOT an everyday house frock so please no comments about immodesty. I realize, it's showy. Though I should point out….no cleavage:)
The place we took the photos at was quite fortuitous. There's plenty of riverfront but most of it is bordered by thick foliage that you wouldn't want to walk though. Brian and I were looking for a place that was not only accessible but also shallow. We drove up and down a shallow area but couldn't find any definite entrance. So we parked and walked a couple yards (along the roadside, in this dress….yes….people stared).
Then Brian found this really hidden path that looked like it came out of 'The Secret Garden" and we followed it down to a fabulously secluded inlet. The only gross part were the crabs. Gross. I've never seen crabs along the river until then. But the shore was littered with their carcasses AND when I waded in the water I could see them scurrying along the river floor. Super gross.
In Greek mythology, the Naiads ( from the Greek , "to flow," and ἃ, "running water") were a type of nymph who presided over fountains, wells, springs, streams, and brooks.
The Naiad was intimately connected to her body of water and her very existence seems to have depended on it. If a stream dried up, its Naiad expired. The waters over which Naiads presided were thought to be endowed with inspirational, medicinal, or prophetic powers. Thus the Naiads were frequently worshiped by the ancient Greeks in association with divinities of fertility and growth.
Difficulty
Intermediate
Categories
Aug 14, 2010, 11.33 PMby inesgr

Jul 25, 2010, 11.06 AMby janene

Jul 13, 2010, 11.27 PMby mema79

Jul 13, 2010, 07.26 PMby nidhi

Jul 13, 2010, 01.52 AMby pambox

Jul 12, 2010, 10.46 PMby lulls

Jul 12, 2010, 09.34 PMby rifka

1 Reply