The Modern Kitsune in White Gothic Lolita
Added Dec 28, 2011
by staticwhite
Nashville, Tenne...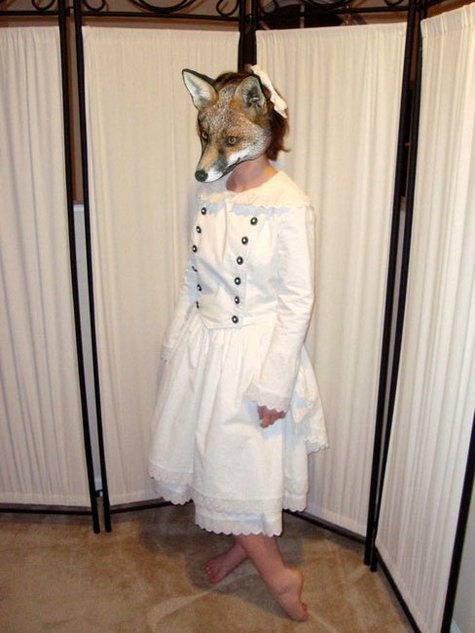 ShareThis
Description
Kitsune are magical, intelligent and sometimes mischievous fox spirits that enjoy taking human form and who just happen to like cute custom outfits from yours truly ;)
The entire outfit included:
A hair bow
Faux Double-breasted Jacket
Underskirt
Overskirt
In answer to a friends question "Did you make this up out of your head or did you have a pattern?"
Short answer? No, yes and then some. Long answer…
I was shown a pic of a Gothic Lolita outfit and asked if I could make something similar. After a bit of hemming and hawing I said yes. I mean I went to school for this sort of thing. Which my husband was so kind to point out "that was like 15 years ago". Shush. So anyway! I am a pattern & book fiend so anytime I need a refresher I can bust out any amount of reference from the overflowing tubs in my closet or pull something off my shelves. I'd say I two-third to three-quarter drafted the pattern.
Rather than start from absolute scratch (which I can do but why reinvent the wheel?) I made a copy of a Butterick pattern's (4154) basic princess line bodice and graded it down since the gal this was for is pixie sized. I then added the double breasted extensions to the front, redrafted the collar, drafted the gathered tail for the bodice, added 10 loops to the the back for lacing.
And we can't forget that the bodice has 14 buttons (only 7 buttonholes though, 2 sneaky snaps underneath), has a massively gathered tail, full lining, tailored sleeves and gobs of lace.
Deep breathe Oh, I'm not done yet.
The lace started life as 4" wide embroidered scallop eyelet lace that I split down the center for this project, minutely gathered and applied to /every/ edge. The outerskirt fabric was 3 yards wide and was gathered down to fit a flat 25" waistband! Did I mention gobs of lace?
Whew.
Material Notes
Cotton, cotton and more cotton
Difficulty
Advanced
Categories
Season

Garment Type

Style

Material