The Mermaid
Added Apr 9, 2012
by ashchaser
Nashville, Tenne...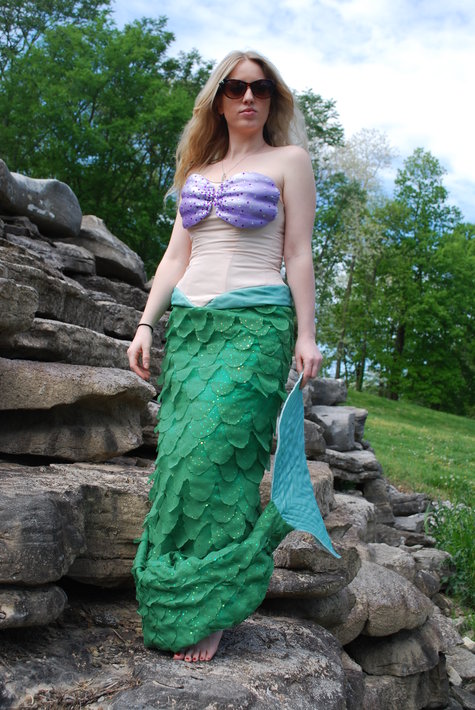 ShareThis
Description
This costume was my first official Chase Ash freelance project as a college graduate, and it was quite an process, so let me break it up into sections.
Shells: To make these sculpted shells I started working with clay which was a total disaster, but a friend gave me this amazing material called Wonderflex which saved my life. You simply make a cast of the shape you need and "melt" this stuff with heat to essentially drape and sculpt it into the shape you need. Then you can sand the rough spots, paint, bedazzle, etc. The end result were these dazzling boob shells fit for any mermaid princess!
Bodice: Used a previously draped princess seam pattern I made and fitted it to the client, boned the seams, added eyelet panels so that someone of a smaller size could lace it up tighter like a corset, fully lined it, and added an invisible zipper to the top. Also to attach the shells I applied Velcro pieces to the bust so that they could be removed and the whole costume can be dry cleaned without warping them with excess heat.
Scales: Took four yards of sparkly green chiffon and cut them in the scallop shape (see So Very Scaly) in 1 yard increments. Since this is not the ideal fabric to scallop and wear, I had to singe every single edge with a tea candle (which took a full week) so that they do not unravel in the future. Note: when doing this make sure you are in a well ventilated area so not to inhale the toxic fumes from melted polyester.
Skirt: Essentially draped this since I had no idea how to make this pattern, but cut 3 pieces which formed a horn shape. The center front panel was cut so that the grain leans towards the right, forcing the two side pieces to go that way as well. (This helps the tail be "right handed" in a way that the wearer can have it hanging to that side with an invisible chord on her right hand holding it up) Stitched these together and applied the rows of scales one by one, later going back to hand stitch these at the end of the tail so that they stay down. Next added the end flipper and hip pieces and sewed it up, added the zipper, and hand stitched the lining in.
This costume took 39 hours! Am so glad it is finished.
Material Notes
Bodice was made of: lining, interfacing, boning, and outer lining. Skirt: inner lining, Fusiboo layer for a loftier structure, tissue lame, and finally scales. Tail and hip pieces: Again Fusiboo, a kind of pearly gauze,and layers of teal organza.
Difficulty
Advanced
Related Techniques
Categories