The "I should've just made circle skirt" skirt
Added Jun 17, 2014
by martinalici
Portland, Oregon...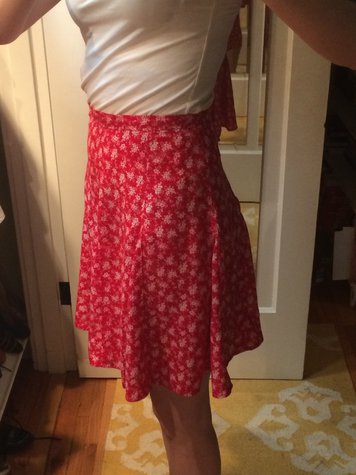 ShareThis
Description
Self drafted 8 gore, 8 godet skirt. Using a tutorial from Sew Vera Venus
I wanted a skirt I could swing dance in that would provide a lot of twirl but still be a little modest too. That did not work. Attempt 1 started the godets too low and it looked so bad.. I have no words for how bad. Just bad. Attempt 2 is this version and I still think that where the godets start is a bit off in relation to the widest part of my hips but it is better. Not sure I have the will to keep trying this but if I did I think I would add more width to my gores and then start the godets either slightly lower or way way higher. I did spend a lot of time doing some top stitching but it's pretty much lost in the pattern which is fine by me. I think from a far and to anybody without sewing knowledge, it looks like a circle skirt ;(
Material Notes
Light weight rayon. Wowzer, first time working with this. Love the flow and the feel but could not get my tension right on my sewing machine. Puckers everywhere. Thankful in a last ditch effort to save it before chucking it in the trash I ironed the crap out of it and the steam totally helped. Not my best work but it is wearable.
Categories
Credits
Skirt drafting tutorial