The Extraordinary Wool Felting Technique in Today's Fashion
Added Nov 17, 2016
London, United K...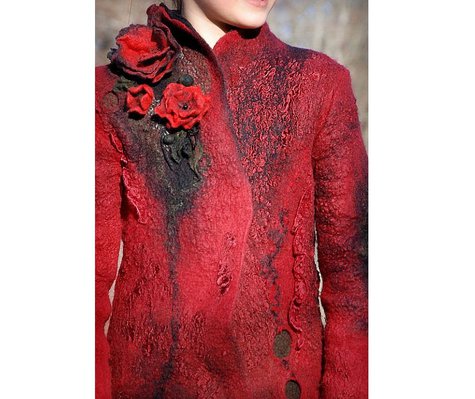 ShareThis
Description
Wool felting is an intricate technique for fiber crafting which has been in use for thousands of years. Wet felting, in particular, is widely used today to create stunning pieces of clothing, ornaments and accessories. So, let's see what this technique is all about and check a few of the possibilities it offers.
Wet Felting Used in Clothes and Accessories
Wet felting involves the use of wool fibers and water to create beautiful ornaments which can be attached to or incorporated into different accessories and clothes. Essentially, for this technique you need some merino wool top and scrap wool yarn, a sushi mat, some bubble wrap, a tutu net, a spray bottle and washing-up liquid.
Here's how wet felting is done:
Spread the sushi mat and cover it with the bubble wrap. Get a piece of your wool top, split it in two lengthwise and pull a tuft from it. Put the tuft onto the bubble wrap, repeat until you cover the desired area. Make a second layer of wool tuft with the fibers placed perpendicularly to the previous layer, then make a third and fourth layer in the same way. For the final layer, you can use some of your scrap wool yarn and scatter it on top or draw a pattern with the yarn fibers. Next, mix water and washing-up liquid in a spray bottle and use it to saturate the wool, don't soak it too much though. Cover with the tutu net and press down to flatten it. Roll up the mat and net, put the roll on a towel and press for around 30 sec. Then gently unroll, rinse in lukewarm water until the soap is cleared and let your finished felt dry.
As you can see, this technique is quite simple. Now, let's see what kinds of creations you can use it for.
Custom-Made Felted Boots
Felt is a relatively durable material, which allows it to be used in many projects without any worry about the durability of the final product. As it is fairly easy to bend and shape, it is quite convenient to work with too. One project you can use this wet felting technique for is to create custom-made felted boots. You just need to choose a color and design you like, make a big enough felt patch and embellish your favorite boots with it.
Felted Bag with Floral Elements
Wet felting can be used to make other accessories too, like a stunning felted bag, for instance. Make the bag as big as you like and use different colors of wool yarn and merino wool top to create beautiful flowers in various shapes and sizes. Sew these onto the bag and voila – your bag will be the envy of all your friends!
Other Felted Accessories
The uses of wool felting don't end with just clothes, bags and boots. Wet felting can be used to create a number of other amazing accessories. For instance, you can make felted hats, lovely baby boots, scarves, neck cloths and shawls, wrist cuffs and gloves, and even jewelry – the possibilities are endless!
Try this technique out, unleash your imagination and make breathtaking clothes and accessories that will look like true works of art!
Material Notes
merino wool top, scrap wool yarn, a sushi mat, some bubble wrap, a tutu net, a spray bottle and washing-up liquid
Difficulty
Intermediate
Categories
Season

For

Garment Type

Style

Material
Credits
Clean Carpets