The dog days are over
Added Mar 8, 2015
by pictureit17
Crystal Spring, ...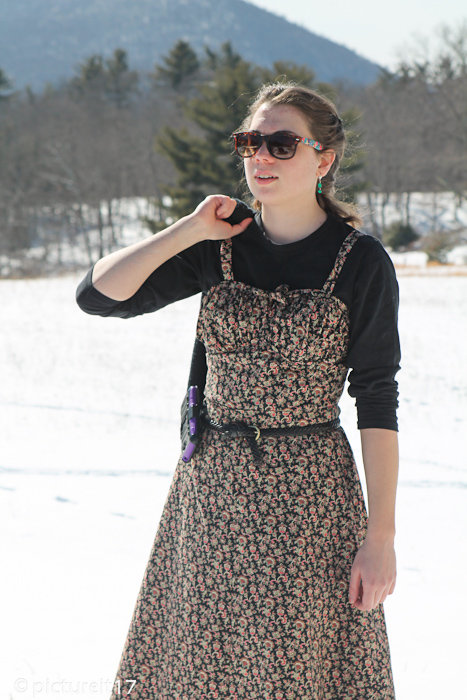 ShareThis
Description
Well, it's still more or less the dog days of winter here in PA, but I made a new sundress, it's vintage Vogue v8812 I purchased on sale a couple years ago, and as you have probably guessed, I was listening to Florence + The Machine at one point or another when I made this dress. There are some adjustments I'd like to make to the dress, the top mainly, I thought I had adjusted it well enough but trying on the finished project (to my lack up surprise) I had to take it in just a little.
I had just enough fabric for this as there was 3 ish yards left on he bolt when I purchased it. I knew I wanted to make a 1940s dress out of it but wasn't sure which one of my patterns I wanted to use; with the still freezing weather we've been having I chose possibly the most summery dress pattern I have. I'm also happy with the button closure. I actually don't have trouble buttoning myself into the dress (yay!). I did lengthen the bodice (1.5in) then take a slightly larger seam allowance because I like the look with the slightly higher waist. I was also inspired by photos of sundresses with cardigans on pinterest and that is most likely what set me on this pattern. I think the colors of the print lend themselves to any season and also more options for different colors of shoes. I'm considering adding a patch pocket to the right side of the dress if I have enough fabric left to match it (I've seen those on some 1930s and 40s patterns on pinterest…). I wore this ensemble to church today and nobody asked if I made this dress (either they assume I make most of my dresses or this one is one of the best looking ones.)
I have close-up photos of the hem, buttonholes and buttons on my instagram @pictureit17
Thanks to my mom for the photos.
Difficulty
Intermediate
Categories