The Conservative Mushroom
Added Jul 7, 2010
by mariposa21
, United Kingdom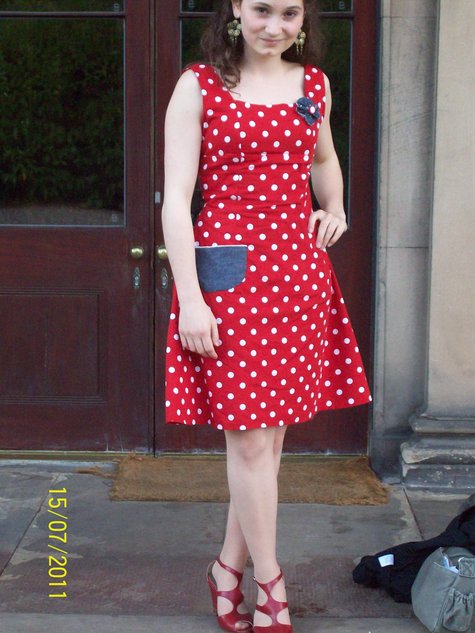 ShareThis
Description
The previous project I uploaded (I'm really behind!) was a cry for help, and it was answered! Apart from giving me some obvious suggestions, some of you gave me some greatly appreciated words of wisdom.
I've definitely learnt something from this:
1. A dress has a personality; sometimes you just can't change that.
2. Accessorize, you can only tweak its style!
3. Every dress has its occasion, it's knowing when and how.
I was really fed up with how the dress was permanently a '50's Minnie Mouse and just couldn't get my head around it. It was only when I started broadening my inspiration to Pippi Langstumpf (believe it or not!), mushrooms, the forest and other patterned fabrics that I could put the dress in a different context. Even so, the less the more on this one I think, I even refrained from putting a second pocket on! As for the occasion, it was perfect! It was the 75th anniversary and school reunion of my Dad's, where people are pleasantly posh but not snobbish ;)
A success I think, but I won't mention the fact that I was hand sewing till the minute we got out of the car!)
Difficulty
Intermediate
Categories