The Complete Rowan
Added Dec 4, 2010
Adelaide, Australia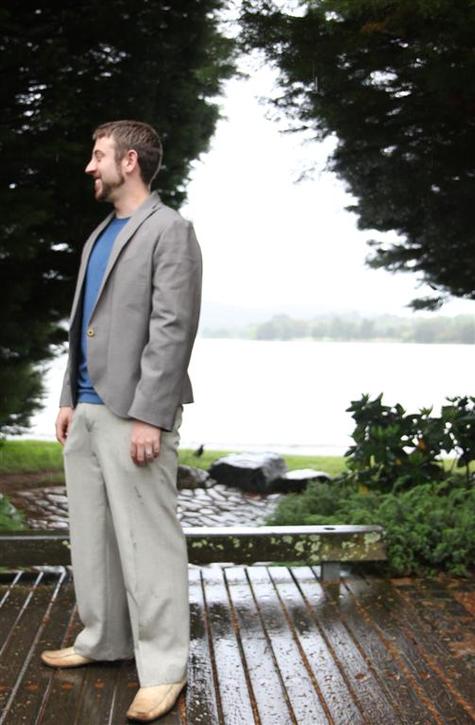 ShareThis
Description
This was my end of year assesment piece for my Clothing Production Certificate IV Course. As a part of our fitting class we were to chose a client and complete one 'outfit' made and fitted for them.
Since making my last jacket my friend Rowan has been very keen about the idea of me making him a jacket. Originally i just planned to make a nice tailored jacket, but the criteria meant that i had to complete a total outfit…so yay pants and a t-shirt were added. So to begin with i started fitting Rowan, and we came up with a design by looking through copious amounts of recent runway fashion magazines, from france, italy and japan. We came up with two designs, and this was the second! He wanted a jacket which he could dress up or down, depending on the occassion.
After about 4 fittings for the jacket i started making the actualy jacket pattern. The jacket consists of 10 panels, a inseam breast pocket (inside and out) as well as two inside pockets on the front at each side. The fabric was leightweight, 100% fine italian wool. So the whole jacket had to be interfaced, then interfaced again! it was a pain, but completely worth it.
The pants were just a commerical pattern which i fitted to him (it could have been fitted some more….but due to time constrictions…..) the pants were made out of 100% polyester suiting (its actually so much nicer than it sounds! it sits fantasticly and irons great!) and the t-shirt was just based on his favorite t-shirt, so it fitted the same way.
In total this all took about 30hours (which seams so little compared to what it felt!!!) and was the result of 5 weeks work. This was a super stressful project, as techinically a dress counts as an outfit, alot of people had a much smaller work load! But the point is it got it done and its over!
We had to present our final project in a panel interview, and then recieved our marks from the panel, based on our project, as well as all our paper work (blerg! there is so much! and three times as more when u make 3 things!!) oh! and its so fun being able to put your own care label in with your 'brand' on it!! :O!
anywho i got a distinction which im super happy about _!!! and now that this is over….it means HOLIDAYS :D
Material Notes
100% wool for shell
55% Acrylic 45% Viscose lining
100% suiting fabric for pants
some sweet buttons!
looots of time ;-)
Difficulty
Advanced
Categories