The "Caps for Sale" Outfit
Added May 3, 2011
by sewweekly
San Francisco, C...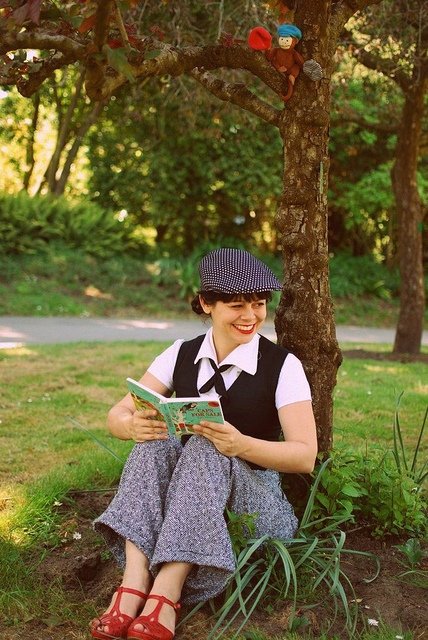 ShareThis
Description
This week's theme at The Sew Weekly is children's literature.
I just kept on coming back to Esphyr Slobodkina's Caps for Sale, a book from my childhood. Wanting to make some separates, Caps for Sale afforded me an opportunity to make a shirt, vest and pants (I had been wanting to sew up a newly-acquired vest pattern). Because of a bad fabric choice, the shirt (#9) ultimately got the axe and I ended up wearing the blouse from this outfit. The culottes from Simplicity #4044 ended up being too-tight and I attempted poorly to turn them into a skirt (#2). When that didn't work, I put it aside and switched back to Madeline.
But that didn't last and I decided to do something drastic — buy some new fabric at the fabric store and force myself to make my Caps for Sale outfit work. So that's what I did. 1 3/4 yards of poly tweed and Simplicity 8013 later, I had my heavily modified pants (I didn't like the lack of waistband in this pattern and the whole thing ran really large!).
I could go into detail about making the vest, but there really wasn't anything to it and I'm far too tired to stay up any longer tonight. The one thing I'll say is that it's a big tighter than I'd like (I had to work with a 30 bust) but, oddly, I really like it!
Read more about this outfit over at The Sew Weekly
Difficulty
Intermediate
Categories