The Battlefield Dress
Added Feb 25, 2014
by kaitiek
The French Alps,...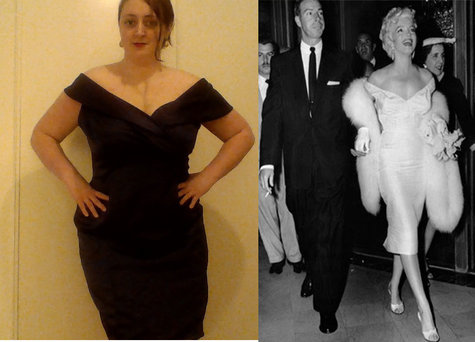 ShareThis
Description
Burda Off the Shoulder Dress Plus Size 07/2011
When my fiance first saw me try this on, he told me, "I would so ravish you in that dress!" I loved the end result, and found it very flattering, but for an advanced beginner like me, this dress was a real battle to sew, especially the collar which makes the off the shoulder part.
In the end, I do think it was worth it, because I learned a lot and this is possibly one of the best things I have sewn. It definitely bumped my skills up a notch. Also, I love the vintage feel of the dress, as it reminds me of a wiggle dress Marylin Monroe would have worn.
On this dress, I learned how to sew a lapped zipper and a vent, which I had never done before.
I have more details and photos on my blog, if you are interested. :)
http://thestockholmseamstress.wordpress.com/
Material Notes
Nice two way navy stretch satin for the shell, cheap royal blue satin on the lining.
Categories