Teacher's Pet Cardi, Simple Tee and Poppy Skirt
Added Aug 13, 2010
by grosgrain
Harrisburg, Penn...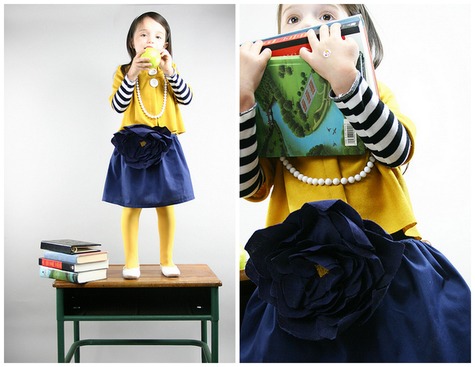 ShareThis
Description
For more sewing goodness visit Grosgrain
It took a while to make this next set because I wanted to create a complete set with documented patterns which always takes longer. I hope to make a couple more Teacher's Pet pieces down the road. They have a preppy, yet eclectic feel.
Lily was fabulous during this shoot. I think the apples had something to do with it. Her exact words were, "I used to not like apples but these are the best apples I've ever had." I'll have to include fruit more often in my photos.
Lily had started kindergarten a week after I made this. I found this antique school desk at a local Salvation Army. Her teacher recommended having a stationary place for her to do her homework. (Yeah, kindergarteners have homework!)
We only had the dining room table which didn't seem very personal to me. So the desk served two great purposes! I might repaint the bottom. Any color suggestions?
I liked the blue, mustard and white color pairing. All Teacher's Pet pieces will have these colors throughout.
The skirt is a simple pattern. With a straight waistband in the front and a adjustable elastic band in the back.
But of course the icing on the cake is the giant linen poppy affixed to the side. The poppy is removable and can be worn close to the shoulder as a boutonnière.
I also want to thank April Spinetti who introduced me to a great fabric store in the Lancaster area with a generous selection of knits.
Without her I wouldn't have found fabric for the cardi or tee. I even found a swiss dot plum knit! Beat that JoAnn's. I'm constantly underwhelmed by the selection of knits at all the local chains.
The Goodville Fabric Outlet not only had an endless selection of knits in almost any color but they were CHEAP. And they had something I had never seen before….sweater material on bolts. They didn't have quite as much as that but it certainly peaked my interest.
It's too bad the store is a little over an hour from my home. I just have to make some reasons to go to Lancaster. There's never a shortage….outlet shopping, cheese, friends and family:)
The cardi is gathered at the neckline into four pleats. The result is a trapeze look. I also used large eye popping buttons to compliment the white strips in the tee.
I really debated on what fabric to use for the tee. Along with the swiss dot plum knits, I also found navy swiss dot knits. I can very close to using that for this outfit but in the end I liked the punchiness that the stripes offered to the outfit.
I was able to use my serger to finish off the edges of the knits which was so great. It's easy and never frays. The only problem I've had is changing threads. So many times I settle for using a white thread on a colored fabric because the thought of rethreading the machine is just too much to handle.
I've heard of these wonderful air jet things on the very expensive sergers. I like to say 'it's like cameras". You really have to settle for what you can afford. If it's over $1,000 I have to pass. But wouldn't it be nice? Just once in a while.
I found these kid beads at Claires in bunches of five for a great deal. One in every color. And the mustard tights were from Urban Outfitters.
You probably would never be able to tell but I moved the "studio" down to our really scary basement. It's so strange to have all these lights and backdrop in the middle of cobwebs, concrete and dankness.
I originally had it upstairs in our sewing/office/exercise/ guest room. Obviously we had space issues. Finally I bit the bullet and moved everything downstairs. And I think despite the occasional gross out, it was the right decision.
I had wanted to take these photos out in a field or woods with the desk but with the heat wave we've been experiencing I couldn't imagine asking Lily to wear this fall outfit.
Difficulty
Novice
Categories
Aug 15, 2010, 02.52 AMby yokpop

Aug 14, 2010, 09.24 AMby bofa

Aug 14, 2010, 08.41 AMby lizah