Tax Refund Green
Added Apr 20, 2011
by lauramae
Novato, Californ...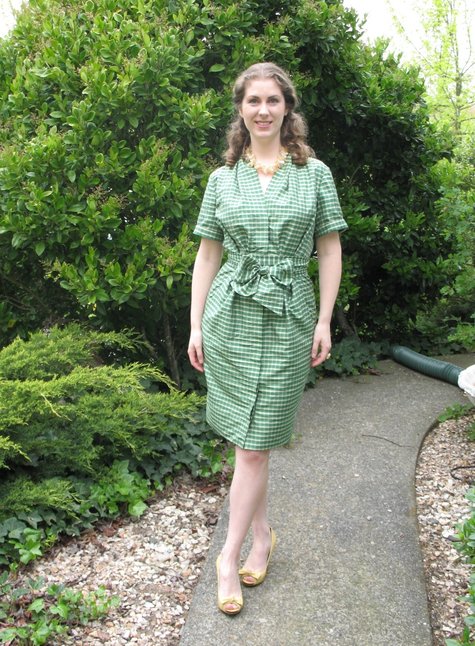 ShareThis
Description
Vogue 1220, Donna Karan Collection, Vogue Patterns American Designer: MISSES' DRESS AND BELT: Loose-fitting, mid-knee length dress has shawl pleated collar, partial waistline seam, pleats, side slant pockets, princess seams in bodice back, back darts, short sleeves with turn back cuffs, stitched hem facing, right fly front button closure and tie belt.
Because I started this dress the weekend of April 9th when I wanted to do anything but my taxes, I am calling her "Tax Refund Green." I may not be able to afford an original Donna Karan, but I am so thankful that Vogue is reproducing it for us home sewers!
The instructions are not quite as explicit as some other Vogue/McCall patterns, but they are definitely do-able. I would agree with the "Average" rating on the pattern.
I absolutely adored this pattern as soon as I saw it.
I love the covered fly button closure (something I have never done before) – I used the buttonholer on my machine, and I cannot remember the last time I did that – hooray for truly "covered" buttons. Of course, because they are not seen, I found the perfect color green buttons for a great price. Figures! I have a couple of knit sweaters that are still unfinished because I cannot get my hands on the right color button, but I find these immediately.
I also enjoyed the construction of this dress. It is a bit unexpected, and hard to tell what the fit will be like until the very end. Just go with it!
Although this is not always the case, I love the pockets. Because of the slight bubble and peg of the skirt, and the diagonal style lines, the pockets work perfectly.
I added my usual 3/4" to the torso length. If I make this up again, I will probably add 1." From the pattern picture it looks like it fits a bit high on the waist, but I am curious what it would look like if the back skirt darts started a bit lower. I also added an extra button to the bottom of the fly to keep the skirt closed. Having worn the dress all day, that bottom button is a bit restricting when getting in and out of a car, so I may remove it, we will see . . .
I finished my seams with rayon seam binding. The construction of the dress calls for most of the seams to be pressed up or down, thus creating only one raw edge to finish which was a time saver!
I also rolled the hem of my belt by hand as well as the front opening edge of the dress and sleeve edge. This was just a personal preference, and certainly not necessary – I just like to keep my hands busy when watching television!
Because of the extreme peg to the skirt, altering the length of this dress is something you will want to think about before cutting. The hem facing will need to be altered if you extend or shorten the length of the dress from the edge. Vogue does provide a "shorten/lengthen" line to work with, so alteration of the facing is not necessary, just make sure to look for it.
Fabric Used:
Promotional Dupioni Silk Fabric Checks in Grass from fabric.com – I think this may have been meant for home decor, but I do not care! And I have enough of it left over for another project! The pattern calls for stretch broadcloth, crepe and linen, but I think my non-stretch woven worked just fine. The dress definitely needs some body to it, and I think a shantung or dupioni silk works wonderfully – I cannot picture how crepe would work. Also, I would recommend that the fabric you choose does not have much of a "wrong" side to it – the sleeve cuffs will show the wrong side, and the belt probably will as well, depending on how you choose to tie it off.
Material Notes
Silk; Gutterman silk thread; rayon seam binding
Difficulty
Intermediate
Categories