Tara
Added Jul 10, 2007
By burdastyle
New York, New Yo...

Step 7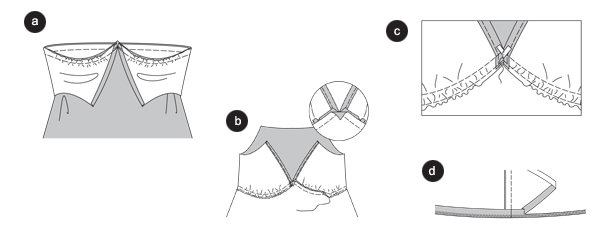 Princess seams
Neaten upper piece at the bottom edge, the front and back pieces at the upper edges.
Baste complete upper piece onto the front and back piece facing right to right (seam 3) and stitch. The upper front pieces meet at the front center, side seams meet as well. Press first the allowance of the bottom front piece at the front center downwards then all others (4a). Fold the allowances at the front center inside to create a tunnel for elastic. Stitch allowance for the tunnel approximately 3/8" wide, stitch tunnel down at the same time. (a)
Cut elastic for
Size 4 – 25 1/2" (65 cm)
Size 6 – 27" (69 cm)
Size 8 – 29" (73 cm)
Size 10 – 30" (77 cm)
Size 12 – 32" (81 cm)
Size 14 – 33 1/2" (85 cm)
Size 16 – 35" (89 cm)
long and insert it using a safety pin. Position loose ends in front center diagonally on top of each other and stitch it together. Secure seam ends. TIP: Verify the fit first by trying it on. (b)
Back neckline edge
Stitch allowance of the upper back edge.
Hemline
Fold and press allowances, stitch edge using a narrowly adjusted zigzag stitch. Trim allowances close to the stitches. ©
TIP: Do the test on a remnant. Use machine thread or darning cotton. Test machine stitch setting and thread tension.
0 Comments on Step 7
Patterns for this Project
Produced by BurdaStyle