Talea- Variation 2- Double Breasted Coat
Added Feb 4, 2008
By burdastyle
New York, New Yo...

Step 24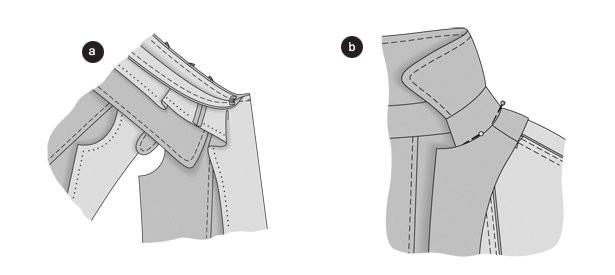 Attaching the collar
Push the collar between the coat and the trimming, so that the bottom collar rests on the coat. The narrow ends of the collar meet with the markings for the base of the collar. Pin the bottom collar to the neckline and the upper collar to the trimming. Stitch. Secure the beginning and end of the seam with reverse stitches (a). Trim seam allowances, fold apart and iron. Turn trimming inside. Iron edges. Pin the collar base seams onto each other (b). At the back of the neckline, place the trimming on top one more time; sew the seam allowances onto each other close to the seam.
Side seams
Place the front parts right sides facing onto the back part, pin the side seams, stitch. Fold apart the seam allowances and iron.
0 Comments on Step 24
This project is based on
Make it