Taffeta in the Sunshine Skirt
Added Feb 26, 2012
by pambox
Sydney, Australia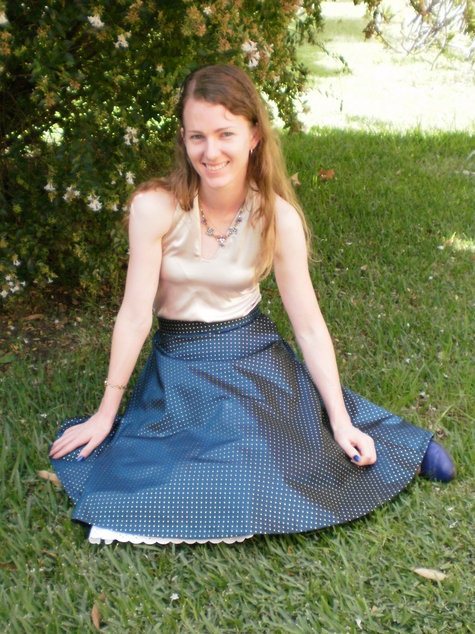 ShareThis
Description
This taffeta half-circle skirt was made to wear to a friend's wedding. Originally I'd planned to finish off a dress I started a few years ago but never got very far on (a slightly-too-complicated vintage pattern with lots of gathers and curves made with slightly stretch silk) but I ran out of time for making something difficult. So instead I decided to use this dark blue gold polka dot acetate taffeta I'd bought a while ago because it was a lonely bolt end of about 1.3 metres. Originally I'd thought of doing a full circle skirt – because who doesn't want a taffeta circle skirt? – but there wasn't enough of it, so I settled for a half circle skirt. Which in the end was the best decision, given this is a particularly stiff taffeta that sticks out quite a long way as it is. I think if I'd made a full circle skirt with this I wouldn't have been able to fit through most doorways!
The skirt sits at my natural waist, and the closure is a metal zipper (it matches the gold dots on the fabric) and a vintage hook and bar. Stupidly I sewed the zipper in slightly too high and didn't leave myself room for the waistband, but I didn't have time to redo the zipper so I had to play around with the waistband as I stitched it in to make sure it sat in place properly. Fortunately taffeta just glides through the machine so easily that little stuff ups like a slightly misplaced zipper are easy to hide.
I love the feel and sound of the skirt, as did a friend's six year old daughter who was sitting next to me in the church and kept reaching over and stroking it. There's just something so satisfying about that slightly rumbling sound taffeta makes when it moves.
I also made the top I'm wearing as a last minute thing because I didn't like any of the options in my wardrobe. It actually used to be the back of a skirt I'd made but had pulled apart because I didn't like it or wear it anymore. It's a simple halterneck top. No closures, just pull it on, made out of champagne stretch statin. As it was made so last minute (in less than an hour the night before the wedding) I'm considering making changes or pulling it apart again, so I'm not going to post it on here separately yet. And given how pale I am, how pale it is, and how bright the day was, I don't really have any good photos where you can clearly see it anyway!
Oh, and note that my nails and shoes match the colour of my skirt. It's not often that I stick to a uniform colour palette. I made up for it with a multicoloured necklace, though.
Material Notes
taffeta
metal zip
trouser/skirt hook and bar
Difficulty
Novice
Categories