Summery flounce blouse
Added Aug 16, 2017
Canada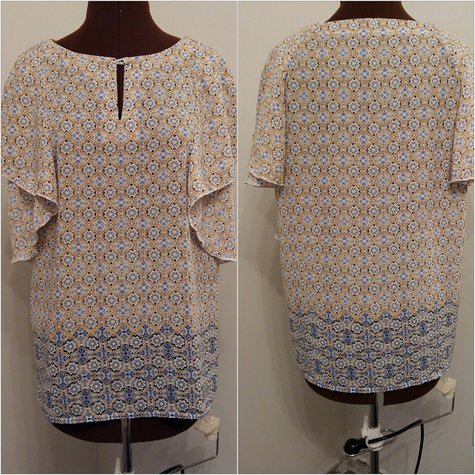 ShareThis
Description
This blouse has hidden folds underneath the sleeves for more amplitude. But at the same time, since the sleeves are attached at the front and at the back it prevents all that fabric to fly in your face.
I saw this lovely fabric at Fabricville earlier this summer. When I saw this pattern I ran back to the store hoping they would still have it. This beautiful fabric was difficult to cut so I used the carpet to pin and cut one piece at a time. Long process but every thing went well.
After making all the darts, I had difficulty decrypting the instructions for the sleeves, so I did it my own way:
1- I did French seams to attach each sleeve to the front and to the back panels. Of note I cut my back panel on the fold instead of having a left and a right back panels. The pattern does not need that seam for a zipper or anything. I also figured that with only one piece I would not have any difficulty matching the border in the middle back.
2- I continued with the attachment seams on the front (marked seam) and on the back (dart seam)
3- Basted top of the sleeves in place
4- Sew front panel to back panel at the shoulder seam.
5- Finished the sleeve hem front and back in one rolled hem on each side for a nicer finish.
6- Basted the bottom of the sleeves to the side seams
7- Stitch the side seams.
Top fits true to size so do not be tempted to go down a size because it looks flowy. Not much ease at the shoulders height and armholes could have been a tad bigger.
Still I made with no alterations aside from cutting the back on the fold to eliminate the back seam. And I even did the button loop when all along I was considering opting out just to save the trouble of return such a tiny piece. But I stuck with the pattern and I am very happy with the results. It adds a nice touch.
This fabric was a challenge to cut and to sew. I must admit that I am very proud of myself for the quality of the confection and the fact that I was able to match the pattern not a small task at the cutting stage.
Altough very proud and satisfied of this piece I do not plan on sewing again…. those flounces will likely not survive another fashion season – I think they are fun but enough is enough!
Material Notes
Polyester Crepe
Difficulty
Intermediate
Related Techniques
Categories