Summer of '69 Refashioned Frock
Added Jun 29, 2010
by grosgrain
Harrisburg, Penn...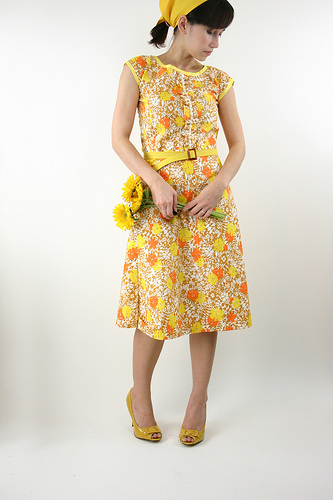 ShareThis
Description
I wanted to show readers that, if you learn to sew, you really CAN live frugaly. I can't tell you how many times I've seen something at a thrift store that was either WAY too big or WAY too homely or just plain old WAY too ugly. All it takes is a quick snip, snip and stitch up here and there and VOILA, you have a fantastic new garment for only $1.50!
This theory can also be used for department store sale racks too!
I bought this little (I mean BIG) frock for $2.99. When I first saw it I almost put it back. It was just HUGE! I wasn't sure if I could salvage it. But it had a summery retro quality that I just couldn't pass up.
What I did first was take in the sides. Then added a zipper to the right side. This changed the look of the sleeves. Instead of looking like a sleeveless dress, it became more of a capped sleeve which I thought was a good thing. Sometimes, when you're trying to revamp something you end up with happy accidents like these.
Then I made a yellow belt to match the yellow trim on the collar and sleeves. I added a brown square buckle and I looked totally ready for a summer picnic in 1969.
If you don't like to shop for used clothing that's fine too. But me, I'm a confessed dumpster diver. Well, okay maybe I wouldn't go that far. (Although I did get my daughter's crib AND my front porch Adirondack chairs on the side of the road, another story) But I LOVE going to thrift stores, especially the salvation army close to my home.
As I've mentioned numerous times, I am a shopaholic AND live on a budget. Sometimes, all I need is that shopping 'fix'. You know? It doesn't have to be anything big, just something to bring home, take out of a bag and put somewhere to admire. Which is why the thrift store is sooooo perfect for me! I've gotten some super cool finds not limited to, but including: a brand new patio table from target, a bubble jet spa, kids clothes GALORE, shoes, an antique birdcage, an Anthropologie-like tray for my jewelry, an armchair that I reupholstered AND a toddler bicycle.
Now, not all thrift stores are created equal. I've found that, around here, the Salvation Army is the best. It's big and has enough clothes to fill a Macys. Although there is a goodwill store in Harrisburg that accepts all the reject furniture from Target. And on the weekends all their inventory is half off! I bought that patio table for only $10. It was brand new, IN THE BOX and still retailing for $200.
And I'd say finding a deal like that is BETTER than buying something new.
And hey, if there's no one out there who wants a new used dress I think I'd be more than happy to keep this little number for myself! If there are some of you on the fence, to ease your mind the dress has been washed and ironed before sewing.
When I see this dress, I think of the song 'Half Acre' by HEM. That might be because it's been playing the entire time I've been writing this post. But I think it's fitting.
I took these photos with my new AMAZING light boxes, 300 watts a piece. The difference between having them on and having them off is night and day. How did I ever live without these?! I haven't quite mastered how to position them but I hope to take a studio lighting class next month. So hopefully I won't be a complete amateur forever.
Oh and the flowers were a happy coincidence. Brian had brought them home after work two days ago. When I went upstairs to take these photos I quickly snatched the vase on the dining room table and used them for the photo. It was all just meant to be.
The size of the dress is small. It has a 26 inch waist line and a 34 inch bust line but the dress was not tight around the waist. So I would say it could fit up to a 27" or 28".
As for the before photo, I know, I know, I really uglied it up. Didn't wear makeup, didn't smile, didn't wear shoes, shot the flash at my face. I thought you might get a kick out of that. I wanted you to see that ANYTHING is salvagable in some way. There are better ones than others but if you're open minded you can always find a bargain.
But really, look at the difference! It's like night and day!
There are finds like this everywhere. And best of all, it only took me about an hour to do! If you like the thrift store refashion posts please let me know. I think I like them and hope you do as well!
Difficulty
Novice
Categories