Summer loving - 4 new outfits!
Added May 26, 2012
by laracrj
Cardiff, United ...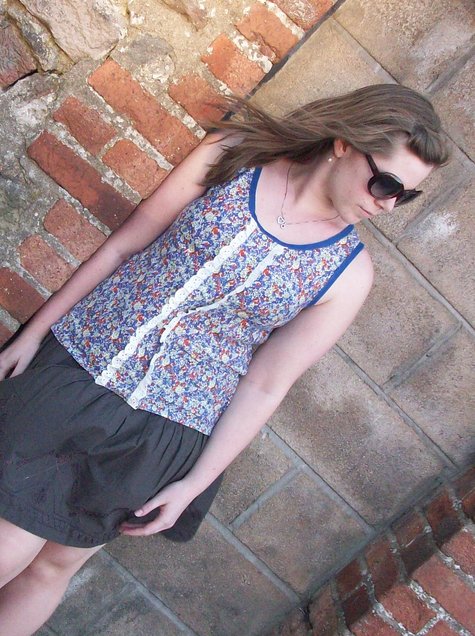 ShareThis
Description
Yay yay yay the sun has come out in Cardiff! I wanted some really quick projects to make, partly because my last dress was a tad frustrating, but mostly because I wanted to avoid writing my end of year reports! I had some scraps of left over jersey from various projects, so I decided to use that, as it would also mean the clothes would stretch so I wouldn't have to make many alterations. So here are 3 projects (to be worn 4 ways I guess).
1. Sorbetto – I was very envious of everyone's Colette tops so I decided to start with the sorbetto. It doesn't really suit my shape, but I LOVE it, especially as it's been sooo hot here (we're not really used to sun in Wales) and it's nice and loose. I realised that when I folded the pleat it didn't show because the fabric was too busy, so I added the white trim and top stitched the pleat down. The jersey fabric didn't hold the pleat shape very well anyway. Now I just need to make some simple narrower skirts to wear with it so I'm not poofy all over!
2. Jersey skirt – finally decided to alter some old dresses I didn't like. So I cut the straps of my 'not quite to infinity dress' and shortened it slightly. I did a rolled hem and pulled the jersey as I was doing it so it's kind of wiggly!
3. Jersey two piece tunic – This is based on 'simple two piece tunic' by DixieDIY and I used the pieces left over from the straps from the infinity dress again. I had to sew loads of strips together to make a big enough square to cut out pattern. Somehow, by a complete fluke, the strips are horizontal on the back and shoulders, and vertical on the belly (which I think is a tad more flattering) so I was pleased with that.
4. Top and skirt combined = new dress!
Material Notes
Jersey jersey jersey
Difficulty
Novice
Categories
For
This project is based on
Make it