Stripey Alice Sweater
Added Dec 30, 2013
by saxsilverain
Espoo, Finland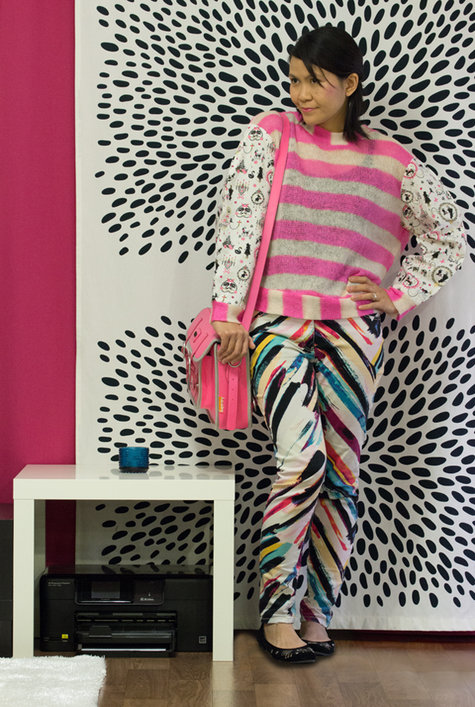 ShareThis
Description
a while ago i got a small amount (as in 60 × 110 cm small!) of Japanese cotton fabric that has Alice in Wonderland print, thinking that it would be enough for me to make 2 place-mats (i would cover it with plastic/film that has adhesive on one side). whatever i was going to make from that fabric, i just had to buy it. i NEED to have that super cute Alice in Wonderland fabric.
and then, as what happened with my previous sewing project, i suddenly saw this fabric together with the leftover of this knit fabric i used to make myself a pair of tights , and a small light went on over my head. i quickly flipped through some Burda Style mags, and found the perfect pattern, no. 127 from the August 2013 issue.
so if you think my Little Chicken Town Boxy Shirt wasn't crazy enough, this here will probably change your mind. :D
i personally think it was a good idea. in fact, i reeeaaaallllly love the outcome! :) i didn't use the blocks as shown on the pattern's picture, nor did i use the zipper on the left shoulder. the whole project took me around 4 hours, still relatively quick for my standard!
the Alice in Wonderland print goes both ways, so for the front sleeves i used it one way, and for the back sleeves i used it the other way (forgot to take close up pics of them, meh). there are gold coating on some parts of the Alice fabric that matches really well with the few gold threads on the knit fabric.
Material Notes
about 1,5 m of acrylic/polyamide knit fabric (1 m wide),
60 cm of cotton fabric (110 cm wide).
Difficulty
Novice
Categories