Stitch in the Ditch
Added Oct 13, 2011
New York, New Yo...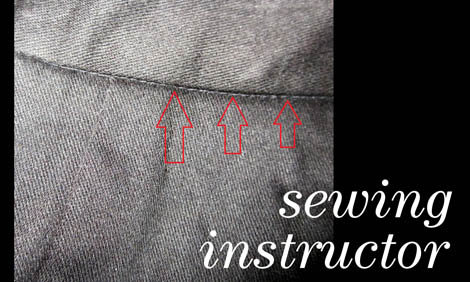 ShareThis
Description
Stitch – in – the – who?
ATTENTION STUDENTS: Stop packing up your sewing gear! Despite popular belief, we are not going on a field trip to the nearest ditch, although that sounds like a fun time. We are simply using a sewing technique to create a professional-looking finish.
I often have to explain to my students that stitching "in the ditch" can be used on seam finishes, pocket bands, and cuffs, but the most common hangout spot for this stitch is the waistband. Check out the seams inside of your pants. Everything looks super neat, huh? The seams are tucked into the waistband and all you see is one machine stitch close to the bottom edge of the band. It isn't visible on the right side, though. That is because it has been sewn directly in the seam aka "ditch" that is connecting the waistband to the pant. Introducing, all the way from Between This Seam and That Seam, packing a regular stitch size, complete with a backstitch, the forever holdin', never showin': Stitch – in – the – Ditch! Okay, I don't really say that last part out loud.
Of course, they had to come up with a name that rhymes for a stitch that is cooler than them all. Think about it: the edge stitch will soon need an intervention from all that dangerous living, the competitive top stitch always wants to be first, while the stitch in the ditch is calm and collected—he gets the job done with such precision and cleans up after himself! What a guy. Ah, so dreamy.
What's your favourite stitch? Let me know!
Categories
Credits
written by

Ivana Musura

originally published on